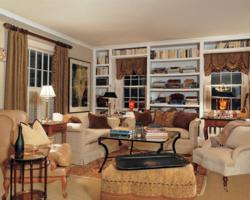 I focus on the joys of moving on, of the potential of an exciting new space, and all the positives that go with it.
Short Hills, NJ (PRWEB) August 30, 2012
When children are grown and have moved out of their family home, it can be a major time of transition for many families. After living in a space for 20 years or more, it's often traumatic to contemplate a move. The home becomes part of your life in such an intimate way, and so many memories are tied to it. "As Baby Boomers, many of my clients are finding their 10,000 sq. ft. homes make little sense when it's back to being the two of them again. So I've developed a deeper understanding of the needs of this ever-growing segment of the population," said Catherine Engelmeyer of Belle Maison interior design.
"When I first work with an empty nest couple, I use one of the most important tools of the interior designer: empathy. I focus on the joys of moving on, of the potential of an exciting new space, and all the positives that go with it", said Engelmeyer. "There are quite a few advantages to exchanging a larger, older home for a (usually) newer or renovated, smaller one. As we get older we tend to become more practical and I emphasize how much easier the newer space will be to deal with. Both indoors and outdoors, empty nest homes tend to require lower maintenance—at least by the homeowner. For some clients, the joy of never having to deal with landscapers and snow removal, or at least not with the same level of importance—is worth the entire downsizing process. You might also enjoy fewer stairs, and more showers than tubs, to enhance quality of life as you gracefully age," she said.
Getting older also tends to mean that we are surer of who we are and what we like. "Your home can become a space perfectly tailored to your character. There can be far fewer compromises, making the environment into the home you've always dreamed about. The freedom can be exhilarating," said Engelmeyer.
Then there is the issue of what to take and what to leave. "This can also become emotional, but I've often found that once you really visualize the life you will be leading and how you can make your new home fit that life, the choices become much easier," said Engelmeyer. "You tend to lose the pieces you thought you couldn't live without—especially the large ones—and focus instead on accessories that make take up less room, but are evocative of a time, place or person that means so much. You tend to favor fewer, higher quality pieces; in this case less is truly more."
Even if your family home was a perfect jewel, empty nest couples have themselves changed. In addition to changing needs, they often have a much better developed sense of themselves, and their new home can reflect this knowledge in ways that make it so much more comfortable, convenient and attractive.
For more great tips and ideas to create your ideal dream home please visit http://www.bellemaisoninc.com/
About Belle Maison:
For over twenty years, Belle Maison founder Catherine Engelmeyer has created interiors with an aura of elegance. Blissfully comfortable, impeccably tailored and beautifully functional, they feature compositions of color, fabric and furnishings that delight both the senses and the soul. Catherine's French heritage inspires her work without limiting her options—a complete mastery of the decorative arts combines with a highly developed sense of empathy to create inspired solutions for discerning clients. Belle Maison has been featured in The Wall Street Journal, House Smarts TV, New York Spaces, Profiles NJ, New Jersey Monthly, and Design NJ.