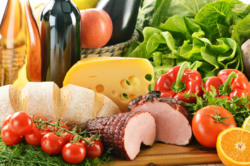 Moab, Utah (PRWEB) August 31, 2012
Any culinary enthusiast who is living in, or will be visiting Moab, Utah on September 29th, 2012 should try to get a table for the Sorrel River Ranch's Farm To Plate Wine Dinner. This luxury resort sits along the banks of the Colorado River and offers stunning views of the red rock mesas and the Moab desert. The gorgeous scenery and relaxed setting make the Sorrel River Ranch the perfect place to host an event like this.
The Farm To Plate Wine Dinner will kick off at 6:30PM with a Champagne Garden Tour led by the Garden Manager, Jason Matz. Jason will show the guests around Sorrel River Farms, the on-site garden and greenhouse at Sorrel River Ranch. This unique experience allows guests to see and learn about the ingredients they will be eating. After the tour, a garden table dinner will be served.
The meal will be prepared by the Executive Chef at Sorrel River Ranch Hotel & Spa, Richard Potts. As the name Farm To Plate suggests, Potts will use ingredients from the on-site farm and transform them to a culinary masterpiece on the plate. With over a decade and a half of culinary experience, Richard Potts is known for creating some truly unique and delicious dishes.
Here is an event itinerary, and a list of some of the food and wine being served:
GREENHOUSE GARDEN (Reception)
Course 1 Garden Melon Caviar, Apricot, Pulled Pork, Smoked Chilies
Schramsberg Blanc de Blancs—Germany
HOMESTEAD GARDEN (Wine Dinner)
Course 2 : Sorrel River Farms Ratatouille, Castle Valley Creamery Goat Cheese, Garden Herb Lavosh
St. Supéry—Napa Valley, CA
Couse 3: Diver Scallop, Alpine Strawberry, Heirloom Tomato, Spearmint, Cilantro, Coriander Dust, 20 Year Old Balsamic
Santa Margherita—Trentino Alto-Adige, Italy
Course 4: Free Range Chicken, Dog Fish 90 Minute Consume, Caramelized Pineapple, Thyme Essence
Sonoma Cutrer—Russian River, CA
Course 5: Toasted Fennel Pollen, Tasman King Salmon, Kurobuta Bacon, Palisade Peach Preserves, Honey Wine Vinegar
Elk Cove—Willamette, OR
Course 5: Baby Pumpkin Bisque, Muscovy Duck, Candied Seeds, Caraway and Lavender, Aged Utah Cheddar
Duckhorn—Napa Valley, CA
Course 7: American Wagyu Tenderloin, Sage, Brute Cocoa, Foraged Mushroom Duxelle, Duck Fat Pastry
Cakebread Cellars Malbec—Napa Valley, CA
Course 8: Zucchini Bread, Squash Cake, Sour Dough Beignet
Graham's 6 Grapes Port - Portugal
Take Home (GOODY BAG)
Care Basket of Freshly Harvested Vegetables
There is very limited seating for this event so those who wish to attend should act quickly. The Sorrel River Ranch Farm To Plate Wine Dinner is $150 per person plus tax and gratuity. Reservations are Required. For more information about this event visit http://www.sorrelriver.com or call 435-259-4642.