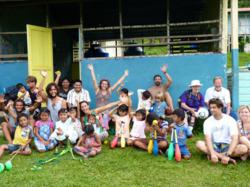 Give and Surf is growing so quickly, it's exciting to see the positive impact on the communities we serve in Bocas del Toro.

Neil Christiansen
Give and Surf
ARLINGTON, VIRGINIA (PRWEB) August 31, 2012
Croft Global Travel, a Virginia-based adventure travel startup, has announced a strategic partnership with Give and Surf, a 501(c)3 non-profit in Bocas del Toro, Panama.
"Give and Surf is growing so quickly, it's exciting to see the positive impact on the communities we serve in Bocas del Toro," said Give and Surf founder Neil Christiansen. "With added exposure, our impact can only expand in Panama as well as other countries down the road."
Under the partnership, Croft Global Travel will begin sending more volunteer groups to Give and Surf in Panama. Also, Croft Global Travel founder Ryan Croft will join the Board of Directors of Give and Surf.
ABOUT GIVE AND SURF
Give & Surf is a 501(c)3 non-profit in Bocas del Toro, Panama whose mission is to empower the indigenous community of Bahia Honda through a number of educational and community development programs. Our current programs include the Monso Chi Escuelita (a preschool of twenty 3-5 year olds), adult English classes, a summer camp, after school program, sustainable chicken egg project, and a new Bahia Honda baseball team.
ABOUT CROFT GLOBAL TRAVEL
A US-based adventure travel company offering guided adventure trips to exotic locations around the globe. Check out our website to plan your next adventure to Latin America, Europe or Africa. In addition, CGT offers customized travel planning services from trip itinerary planning to booking reservations. Our mission is to provide customized, "experiential" adventures for those travelers who seek more meaningful vacations. We are pioneering a new-age brand of guided group travel to enrich lives, explore our earth's beauty, and safely take people beyond their normal comfort zone.