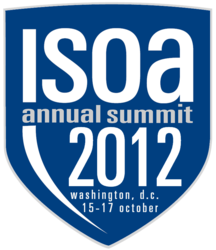 These leading voices from the government, nonprofit and private sectors will examine the key issues facing our community and identify future trends
Washington, D.C. (PRWEB) August 30, 2012
The International Stability Operations Association is pleased to announce an esteemed lineup of confirmed speakers for the 2012 ISOA Annual Summit taking place at the National Press Club in Washington, D.C. on 15-17 October 2012.
Jim Bullion, Director of the Task Force for Business and Stability Operations of the Department of Defense, will speak on a panel about the need to identify the value of stability operations for long term economic growth, both locally and globally.
Ambassador Marc Grossman, Special Representative for Afghanistan and Pakistan, will speak on a panel about the evolving environment for international development implementation amidst a security transition in Afghanistan.
David J. Berteau, Senior Vice President and Director of the International Security Program at the Center for Strategic and International Studies, will speak on a panel about the current and near term budgetary situation at the UN, US agencies and foreign donors for stability, peace and development.
In addition, Stuart Bowen, Special Inspector General for Iraq Reconstruction, will speak on a panel about how the U.S. military transition out of Iraq has affected and will affect the business operating environment.
"This year's Summit features an extraordinary and influential group of luminaries," says ISOA President Doug Brooks. "These leading voices from the government, nonprofit and private sectors will examine the key issues facing our community and identify future trends."
For a full listing of confirmed and invited speakers for the event, visit the 2012 Annual Summit website at http://www.stability-operations.org/summit2012.
For sponsorship and exhibition information, please contact Jason Kennedy at JKennedy (at) stability-operations (dot) org.
For event and registration information, please contact Jessica Mueller at JMueller (at) stability-operations (dot) org.
About the ISOA Annual Summit
The ISOA Annual Summit is the premier annual event of the stability operations community. Over two days, attendees participate in open dialogue on trends, challenges and tools for success in their work towards stability, peace and development in fragile environments worldwide. Partners across the private, nongovernmental, academic and government sectors are invited to share their experiences and knowledge at this unique event.
About ISOA
ISOA is the international trade association of the stability operations industry, promoting ethics and standards worldwide and advocating for effective utilization of private sector services. ISOA members are leaders in the industry and are supported by ISOA's outreach, education and government affairs initiatives.