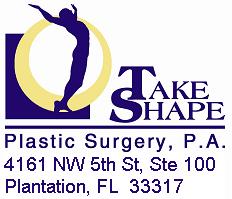 Our new Tummy Tuck procedure dramatically decreases post operative pain and requires fewer if any drains making for a more comfortable, and thus happier patient - Dr. Russell Sassani
Fort Lauderdale, FL (PRWEB) August 31, 2012
Dr. Dreszer and Dr. Low at Take Shape Plastic Surgery, P.A. are now offering an innovative "Tummy Tuck" in Fort Lauderdale. This improved procedure includes better pain control and more effective closure of tissues, lessening the need for external fluid drains.
The tummy tuck (abdominoplasty) is a tried and proven method to address excess abdominal skin, increased abdominal fat and weakened abdominal muscles. These are most commonly seen in women post pregnancy, but may be seen in any female or male. The procedure usually entails removal of excess abdominal skin and fat, repositioning of the umbilicus (belly button) in a more aesthetically appealing position, and tightening of the rectus abdominus muscles (the six-pack muscles).
Though this procedure has great functional and cosmetic success when performed in the right hands, there are known complications that are sometimes overlooked. One of the most common complications that can occur with abdominoplasty in Fort Lauderdale and elsewhere is seroma formation. This is, simply put, the formation of a pocket of serum (fluid formed by raw surfaces after the surgery). This fluid formation is common because of the large continuous space that is often left by surgeons under the skin, and is increased by shear forces between the skin tissues and the fascia of the abdominal wall. The most common way to prevent seroma formation entails the placement of several drains overlying the abdominal wall. These are most commonly left in until the drainage is minimal, but can be cumbersome for patients and may even be the cause of infection. The treatment of long-lasting seroma accumulation requires the use of syringes and needles to evacuate the built-up fluid. Recently, surgical techniques have evolved to minimize seroma formation and limit the number of drains that need to be placed. Progressive tension suturing is a technique whereby the skin and underlying tissues are quilted to the abdominal wall fascia, preventing shear forces and dead space, and thereby minimizing the amount of fluid that can accumulate. This allows the surgeon to opt for less drains, and at times no drains at all, making for a more comfortable, and thus happier patient.
Another downside of abdominoplasty is pain. In order to address this problem, surgeons have opted to use external pain pumps to help deal with post-operative pain in the first few days. While effective, the pumps have to be carried around and entail small catheters that penetrate the skin making infection a possibility. This remains a good option for pain reduction in the days following abdominoplasty surgery, and should not be discounted. Recently, however, a newer option for pain control is being offered by the Plastic Surgeons at Take Shape Plastic Surgery PA. The new medication, Exparel (http://www.exparel.com/index.shtml?gclid=CP3Tvo_vj7ICFYlgTAod1RUAeg), is a long lasting post-surgical pain analgesic. This is a non-narcotic local medication which lasts up to 72 hours, and is injected throughout the abdominoplasty surgical site, incisions, and possible drain sites. This can significantly reduce post-operative pain and the need for narcotic medications, which can cause nausea, vomiting, itching and constipation. Better pain control at the surgical site makes for happier, more comfortable patients.
At Take Shape Plastic Surgery, PA., the Fort Lauderdale plastic surgeons strive for the best aesthetic results, and realize that a patient's comfort is paramount in their outcome. By incorporating the most up-to-date techniques to decrease seroma formation and minimize the number of drains used, and through the use of the newest, least invasive methods of post-operative pain control, they aim to provide the patient with a more painless and hassle-free Tummy Tuck; all while maintaining the outstanding results which have become synonymous with the Take Shape name.
Those interested may contact Take Shape Plastic Surgery in Fort Lauderdale. for a free South Florida cosmetic surgery consultation at 954-585-3800. They are located at 4161 NW 5th St., Ste. 100, in Plantation, Florida. For more information please visit their website http://www.takeshape.info.