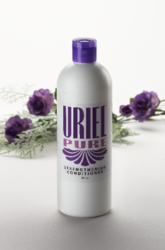 It's healthy hair in a bottle!
Wilmington, DE (PRWEB) August 30, 2012
With the growing amount of diversity within the population of the United States, and the growing need for natural hair and skincare products, there is an increasing need for companies that are able to meet either or both demands. Recently Urielpure Inc. has been producing products for both the ethnic and natural personal care product markets.
Urielpure Inc. formed in the fall of 2010 to fill a glaring void in the marketplace for hair care products that work effectively for black and ethnic hair types. Most consumers of Black and Spanish hair care products know that many of the products targeted for their specific hair types just don't work. Urielpure is best known these days for their flagship Product Urielpure Strengthening Conditioner which is highly effective in repairing and preventing hair breakage. It represents the latest breakthrough in hair care technology. According to the company "it is healthy hair in a bottle." Due to the specialized combination of ingredients, a natural sheen is infused into the hair, thereby eliminating the need for unnatural spray sheens and heavy oils. Urielpure Strengthening Conditioner contains everything that is naturally found in healthy black hair. Most other products on the shelves these days contain cheap or unnatural ingredients that don't actually work the way that they're supposed to and leave the consumer disappointed and without results.
These days many consumers look to Mother Nature for more natural solutions to health and beauty issues. Companies like Urielpure seek to combine natural ingredients with modern science to create natural products that are both safe for the long term and highly effective. It should only make sense that people should benefit from scientific advances rather than be exposed to unnatural chemicals. While most companies seek to use science to create products that are less expensive to reproduce, there is a growing number of companies that are using the latest breakthroughs to aid the well-being of the consumer. Urielpure is now introducing an ever growing line of products to match this need.
Another one of Urielpure's products that is targeted to an often neglected segment of the hair care market is their Urielpure Best Dreds. Best Dreds is meant for people with dreadlocks, braids, and twists to nourish their hair and scalp. Best Dreds penetrates deep into the deepest layers of the scalp thereby locking in sustained and continuous nourishment. It is also completely free of petrolatum and heavy oils that only clog the delicate pores of the scalp. Many people with these types of styles are severely limited to the number of effective hair care products from which they can choose. Best Dreds provides relief to itchy scalps and keeps their hair and scalp moisturized and healthy. Most people who currently have dreadlocks are happy to try new products when they come out, especially when they can find ones that work.
In addition to their hair care line, Urielpure has recently introduced skin care products including their Urielpure Pure Shave. This product is targeted to both men and women and offers a natural long lasting smooth shave that leaves skin at its very best. Many consumers that have tried this product have agreed to the company's claim that it gives them the best shave of their lives. Urielpure accomplishes this with a specially balanced formula of natural and effective ingredients that nourish and protect the skin better than most other popular brands of shaving products.
Recently there has been an increasing number of people in the United States suffering from various types of skin conditions. Sufferers of eczema, psoriasis, and general chafing of the skin have found relief using Urielpure's Skin Ointment. This product was designed to soothe skin affected by these conditions and make it baby soft to the touch. Urielpure Skin Ointment instantly stops all itching and irritation to the skin. The company again relies on natural active ingredients to accomplish its goal and help people with these conditions lead more normal lives.
The markets that Urielpure Inc. currently serves are ones that are rapidly growing yet are grossly underserviced. They are a company that is dedicated to the purity of their ingredients as well as consistently delivering products to their consumers that really work. As the consumer becomes increasing educated especially with the help of resources like the internet, products like those offered by companies and natural product distributers like Urielpure are becoming increasingly popular. People do more research than in the past before making purchases and are willing to pay for products that actually work. They often look to the testimonials of others to help them decide on which products to try out. Hopefully with the increasing speed at which information is spread in this day and age consumers will more quickly find products from companies like Urielpure Inc. which are specifically tailored to meet their demands.