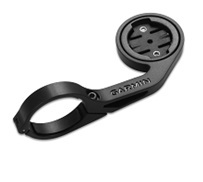 As a national and international caliber cyclist in my day, I know all about this, and this device is a no-brainer
Bozeman, MT (PRWEB) August 31, 2012
The Garmin Edge out-front bike mount is the perfect addition to any Garmin bike computer. Why? Visibility and ease of visibility. Watch the pros in the Tour de France and most all of them ride with a forward mount. Why? One word, safety. Keeping one's eyes on the road forward is one of the most important facets of cycling.
"As a national and international caliber cyclist in my day, I know all about this, and this device is a no-brainer", says Rusty Squire, President of the Heart Rate Watch Company. He adds, "Having a forward mount keeps your field of view where it ought to be - forward".
For just $39.99 the Garmin Edge Out-Front bike mount gives an extra 6 to 8 inches forward over a stem mounted device. "That much forward visibility can make all the difference in the world going down a high speed descent", says Squire. He adds, "I've ski raced a lot at speeds approaching 80 mph and I would never think of looking down at that speed, its a death wish".
The new Garmin Out-Front bike mount is available for advanced order at the Heart Rate Watch Company and it is compatible with the Garmin Edge 500, Edge 200 and Edge 800 models. The mount is also compatible with the Garmin Forerunner 910XT and Garmin 310XT GPS watches for triathlon as long as you have the quick release band.
All the pros have been using these forward mounts for the past several years and now they are available to the regular cycling public. "The best innovations generally seem to come from the professional ranks and this is one whose time is long overdue", states Squire.
The entire mounting system weighs .9 ounces or 26 grams, so it adds nothing to the weight of a bike but the safety benefits and visibility benefits are enormous. "If I was still seriously competitive cycling and training today I would not even think twice about this one, it is the best investment you will ever make for your Garmin bike computer", says Squire.
The availability of these new mounts for the Garmin bike computers is October of 2012 advance orders are being accepted by the Heart Rate Watch Company.