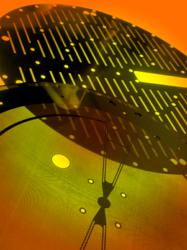 Our innovation eliminates down time which helps us lower costs and offer exceptional quality.
Milford, MA (PRWEB) August 31, 2012
Photofabrication Engineering Inc. (PEI) announces superior stainless steel precision parts through their proprietary photo chemical etching technology. PEI separates the different etchants and therefore prevents the introduction of copper salts during the etching of stainless steel. Furthermore, few domestic precision photo chemical etchers stock as wide a variety of stainless steel sheets and coils from as thin as .0006" (SS 304 Full Hard) to as thick as .090" (SS 302 Annealed). Established in 1968, PEI stocks more than 370 unique stainless steel SKUs in its modern, 40,000 square foot facility.
Chip Lehrer, President of PEI and the former president of PCMI (Photo Chemical Machining Institute), recounts how "we were the first in the industry to separate etching acids for iron and copper alloys thereby allowing the regeneration of all PEI chemical baths for maximum uniformity of etching. Our innovation eliminates the down time for unloading and reloading of etchant and makes the process more predictable and controllable which, of course, helps us lower costs and offer exceptional quality." In combination with PEI's certifications for ISO 9001:2008 and the Aerospace Certification AS 9100:2009, the stainless steel metal parts made by PEI reach the leaders in aerospace, consumer electronics, defense, food processing, medical apparatus and devices, and microelectronic industries.
Phil Greiner, PEI's Design Engineer and also the current treasurer of PCMI, has seen many different applications for precision stainless steel parts during his 25 year tenure at PEI. Applications include a plethora of parts from optical discs, linear encoders, flat springs, fuel cell plates, shields, shims and even lids and covers for microelectronic devices to name but a few. Phil explains that "the beauty of the photo etching process done at PEI is that we do not create burrs nor do we change the properties of the metal itself. We readily work with annealed stainless to extra hard stainless steel and since there is no tool on tool wear the millionth piece will meet the same exacting specs as the first piece subject to the rest of our process being in control … which it is."
As if on queue, Robert Rossi, Executive Vice President of PEI, adds that "PEI's quality assurance systems have forced us down the lean path wherein our minimal process waste and our effective yields are the envy of our peers. We publicly display our metrics to our employees as well as our customers so by embracing quality at every step in our process we have reduced costs and now compete effectively against certain imports because our customers know that they do not have to contend with costly rejects."
In a final side bar comment Brook Spaulding, PEI's Director of Sales & Marketing, hastened to add that PEI's stainless steel expertise has also translated into a new line of corporate recognition products including custom metal etched business cards, golf divot repair tools and golf ball markers from PEI's Decorative Division. Quips Brook, "making corporate keepsakes out of stainless steel means longevity and no rust plus CEOs and CMOs love the rapport building opportunity of a polished stainless steel metal business card with their logo!"
For more information about Photofabrication Engineering, Inc. (PEI) and its precision stainless steel photo etching capabilities as well as other metal etching capabilities including aluminum, beryllium copper, gold, molybdenum and titanium visit http://www.photofabrication.com or call 1-508-478-2025. Established in 1968, PEI has approximately 50 employees and is ISO 9001:2008; AS9100 and ITAR certified. To understand more about the photo chemical etching process visit http://www.photofabrication.com/etching-process/ or view the short PEI YouTube video.
###