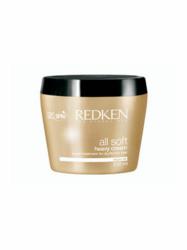 (PRWEB UK) 31 August 2012
Hairtrade.com, the UK's leading retailer of hair extensions, hair care and beauty products has announced that it has added an exciting new collection to its Redken range.
All Soft by Redken, is a collection of hair care products specially designed for hair that is dry and brittle.
Consisting of an exclusive Interlock Protein Network and Keratin Enrich Complex with omega-6 enriched argon oil, Redken All Soft replenishes hair's protein and nourishes hair for intense softness.
Commenting on the new addition to the range, Keven Kou, Managing Director of Hairtrade.com said "When we first introduced Redken to Hairtrade it was extremely popular, especially the styling products. Over the last few months we've seen an increase in the demand for treatments and hair care for dry hair which is probably due to Summer weather."
He continued, "We decided to look into a dedicated range for dry and brittle hair and Redken was the obvious choice and we're certain it will be a success, in particularly its Argan-6 Oil."
With 6 products in the range, there is a product for every need whether it is a daily shampoo and conditioner, or a treatment to use weekly.
The All Soft Argan-6 Oil intensely nourishes and protects dry, brittle hair. The Omega-6 enriched argan oil provides concentrated softness, deep conditioning and lasting suppleness.
Meanwhile, the All soft shampoo and conditioner creates hair that is silky soft with increased manageability, suppleness and lasting shine.
The range also consists of two treatments – All Soft Heavy Cream which is targeted at extremely dry or brittle hair, intensely nourishes and conditions; and All Soft Supple Touch, which is a leave leave-in treatment that offers the benefits of a cream with the lightness of a spray and dramatically improves hairs condition and manageability.
The Redken All Soft range is available now from hairtrade.com with up to 15% off the RRP.
About I&K International Limited:
Established in 2005, I&K International Limited is now one of the leading distributors of online hair care and beauty products across the UK and Europe. Hairtrade provides a wide range of hair extensions (http://www.hairtrade.com/ ), hair care products and hair electrical brands.
Hairtrade provide a wide range of 100% human hair extensions mainly, human hair weaves, I&K clip in Hair Extensions and pre-bonded hair and European hair extensions. Among its top brands are I&K 100% Human Hair and Remy Hair, Top Model and Jessica Simpson hair. In addition to its 100% human hair extensions the company also provides synthetic hair extensions, wigs, hairpieces, hair extensions accessories and tools, as well as an extensive range of hair care products from brands such as Tigi, Loreal, Schwarzkopf, Goldwell, Matrix, Fudge, Keune, Sexy Hair and many more.