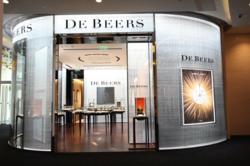 François Delage, CEO of De Beers Diamonds Jewellers, commented, "We are proud to continue to build the brand in China.with the opening of our first store in Shanghai after the successful openings in Beijing, Tianjin and Dalian."
Shanghai (PRWEB) August 30, 2012
De Beers Diamond Jewellers, the definitive destination for diamond jewellery, celebrates the highly anticipated opening of a new De Beers store at IFC, located in the heart of Shanghai's most prosperous financial area Lujiazui in the Pudong district. Shanghai is an epicentre of luxury shopping and the establishment of De Beers here marks the brand's fourth store in China.
With this new store, De Beers brings over 120 years of peerless diamond expertise and passion to the vibrant city of Shanghai, where the historical meets the contemporary. The new 75 square metre space is ideally located in the new fine jewellery area of IFC. The new store features De Beers' unique design concept of glass and light, where clients are invited to discover the natural beauty and timeless mystique of diamonds. De Beers' most beautiful creations will come to life in this setting, including stunning solitaires, timeless classics and unique High Jewellery creations.
For this occasion, De Beers displayed the Talisman Crown that was specially designed for the celebration of the Queen's Diamond Jubilee along with The Talisman Wonder. A set of eight unique Talisman Medals have been exclusively created to celebrate the Shanghai store opening. In Chinese tradition, the number 8 is synonymous with prosperity, wealth and good fortune. These 8 Talisman Medals have been designed to honour this ancient belief. Each is composed of magnificent rough diamonds that are exquisitely arranged within the distinctive handcrafted serti-poinçon textured white, yellow or pink gold in a mesmerising formation heroing the central diamond. With the unveiling of The 8 Talisman Virtues, De Beers celebrates diamond mastery and expert craftsmanship by combining rough and polished diamonds creating beauty, balance and harmony.
François Delage, CEO of De Beers Diamonds Jewellers, commented, "We are proud to continue to build the brand in China with the opening of our first store in Shanghai after the successful openings in Beijing, Tianjin and Dalian. As the sole diamond jewellery specialists, we are delighted to share our exceptional passion and expertise in diamond selection, craftsmanship and diamond jewellery design with one of the most discerning markets."
Andrew Coxon, President of De Beers Institute of Diamonds, continued, "Every De Beers diamond is meticulously hand-selected for beauty to ensure that it has exceptional Fire, Life and Brilliance. We know that the highly discerning clients in China will no doubt appreciate the superior sparkle and transparency that our specially selected diamonds exhibit."
To help showcase this, each De Beers store is equipped with a De Beers Iris, a unique technology that helps customers clearly see the beauty of every diamond through the eyes of an expert.
Award-winning actress, Shu Qi was in attendance to celebrate the opening in Shanghai, looking radiant in De Beers jewellery. Having built her career in Hong Kong, she has become one of the most successful actresses in Asia and has been a proud member of the jury at the Cannes Film Festival. Shu Qi wore the stunning Arpeggia necklace and bracelet crafted in yellow gold with white and fancy-coloured diamonds, and two beautiful solitaire rings. Shu Qi completed her look in a glamorous Dior dress. Shu Qi commented, "I am delighted to be able to join De Beers for the opening of the first Shanghai store and these timeless, elegant creations from De Beers are a joy to wear."
Mr. Delage added, "It is an immense pleasure to have one of the most beautiful and talented actresses join us today, as a real friend of the brand. She exemplifies the spirit of modern femininity, beauty and grace – qualities that inspire our designs at De Beers Diamond Jewellers."
The new Shanghai IFC store represents De Beers' focus in China. With recent store openings in Beijing, Tianjin and Dalian, De Beers recognises the demand for exquisite designs and diamonds of superlative quality by Chinese consumers and the opening in Shanghai IFC highlights De Beers' success as a global destination for diamond jewellery lovers and connoisseurs.
De Beers has a worldwide presence with stores located in the most sought after locations including Old Bond Street in London, Fifth Avenue in New York, Printemps and Galeries Lafayette in Paris, Shin Kong Place in Beijing, The Landmark in Hong Kong and Ginza in Tokyo.
De Beers Diamond Jewellers was established in 2001 as an independently managed and operated joint venture, bringing the luxury retail and branding expertise from LVMH Moët Hennessy Louis Vuitton, the world's leading luxury products group, and De Beers SA, the world's premier diamond company.
The De Beers Shanghai IFC store is located at:
SHANGHAI IFC
Shop 35, 1F
Tower 2, 8 Century Avenue
Pudong District, Shanghai, China