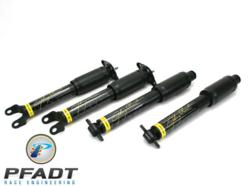 A "bestseller" with Corvette and Camaro performance enthusiasts, the PFADT Racing section will provide customers an easy way to shop for PFADT Camaro and Corvette products.
Marietta, GA (PRWEB) August 30, 2012
Southern Car Parts has been offering PFADT products for the Corvette C6 and C5 for over 4 years and recently started offering the PFADT suspension products for the Camaro. Because of the incredible success of PFADT products, Southern Car Parts has dedicated a section of their online shopping portal to offer the full lineup of PFADT Racing products. The new section is dedicated to only PFADT products and is organized by vehicle and product type. The new PFADT shopping portal is easily found off the main Southern Car Parts home page and allows customers to easily shop for PFADT Suspension products for their vehicle.
For more than six years SCP has been developing a strong reputation and following in the performance automotive market and has expanded from Corvette parts to also include performance products for the Chevrolet Camaro, Dodge Challenger, Ford Mustang, Nissan 350Z and 370Z, and Nissan GT-R . They have earned a loyal customer following who returns to them for their performance needs as result of SCP's dedication to top-notch customer service. The inclusion of the complete PFADT product lineup in one dedicated section is certain to help SCP continue to offer customers best in class products in an easy to find format.