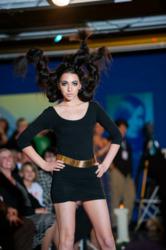 Scottsdale, Arizona (PRWEB) August 30, 2012
What: A vintage circus themed fantasy hair show presented by Brillare Hairdressing Academy to celebrate the internationally recognized fourth annual Fashion's Night Out – Thursday, September 6, 2012 (http://www.fashionsnightout.com).
Who: Brillare Academy cosmetology students show off their skills by styling more than 40 models in elaborate costumes, hairstyles and make up in a retro circus-themed runway show.
The Brillare fantasy hair show will kick off an evening of fashion events at retailers throughout the Scottsdale Quarter shopping center.
Where: The Brillare Hairdressing Academy Scottsdale campus, located in the Scottsdale Quarter, at 15147 N Scottsdale Rd, Suite H-300, on the third floor level, across from H & M.
When: Show starts at 5:30 p.m., Thursday, September 6, 2012
Cost: No charge for admission. Complimentary refreshments. All ages welcome.
About Brillare Hairdressing Academy:
Brillare Hairdressing Academy offers day and night cosmetology programs as well as client hair and waxing services in an upscale salon-like setting. The retail area features high quality hair products from well-recognized brands such as Sebastian, Nioxin, Wella Professional, OPI and Paul Mitchell.
Brillare Hairdressing Academy is the only cosmetology academy in Arizona to be recognized as a Sassoon Academy | School Connection, Wella Signature School and Nuts and Bolts business training member school. Brillare (pronounced Bree-lahr'-ey) means "to shine" in Italian. Brillare is accredited by the National Accrediting Commission of Career Arts and Sciences (NACCAS).
All client services are performed by cosmetology students under the supervision of licensed instructors. Brillare Hairdressing Academy is located in Scottsdale at 15147 N Scottsdale Road, Suite H-300, phone: 480.994.4222, and in Phoenix at 15210 S. 50th Street, Suite 150, phone: 480.940.5300. For more information about programs, services offered and disclosures, visit http://www.brillareacademy.com, http://www.facebook/brillareacademy, or call 480.994.4222.