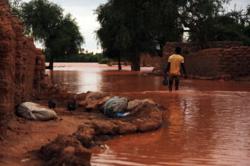 Sarasota, Fla. (PRWEB) August 30, 2012
A ShelterBox Response Team (SRT) including Gainesville, Georgia resident, Mike Freeman, is in Niger assessing the need for emergency shelter following extreme flooding over the past month that has left thousands of families homeless.
International humanitarian relief organization, ShelterBox provides boxes of emergency aid to survivors of disasters such as earthquake, volcano, flood, hurricane, cyclone, tsunami or conflict. Each box contains a disaster relief tent, stove, blankets, water filtration system, and other tools necessary to help families live independently and with dignity in the months following disaster.
Reports say the flooding in the West African country is the worst seen in nearly 100 years.
At the beginning of August, rains moved north from Burkina Faso to Niger, falling over one day in the mountains in the north and running down into the southern region of Dosso.
A week later, up to 227 millimeters of rain fell overnight, which is half a year's rainfall. The water ran through tributaries into the River Niger, causing severe flooding in the regions of Tillabery in the north and the capital, Niamey, flooding the city's suburbs.
The United Nations (UN) reported the Dosso region has been worst affected, with over 10,000 homes damaged by floodwaters.
WITHOUT SHELTER AND FOOD
To date, the floods have destroyed 14,000 homes and 7,000 crop fields across the country, according to the UN's Office for the Coordination of Humanitarian Affairs (OCHA), leaving many of the country's poorest families without shelter and food.
With Niger already dealing with food insecurity across the Sahel region, the Malian refugee crisis, a cholera outbreak along the River Niger basin, and a locust invasion, its capacity to respond to the flooding has been severely restricted.
Consequently, President Mahamadou Issou has called for international help after pledging 1,400 tons of food and over one million dollars of aid money for flood survivors.
Freeman, a member of the South Hall County Rotary Club in Georgia, and fellow SRT member, Fiona McElroy from the UK arrived Sunday evening to meet with OCHA and the local government, which is coordinating a national response.
"We met with Gaston Kaba, a Rotarian we have worked with on previous Niger deployments," said McElroy. "He has been helping us with local contacts, transport and has been acting as our translator.
"We have had meetings with OCHA, Oxfam, the Agency for Technical Cooperation and Development (ACTED), the Prime Minister's Office and Niamey authorities, to discuss a response plan to the floods as well as the Malian refugee crisis."
The SRT visited Niger's capital on Monday. Flooding was visible and villages along the riverbanks were destroyed. Families who had been living there are now taking refuge in schools.
VILLAGES CAN'T BE SEEN
"The River Niger in Niamey is at least two meters higher than normal so it has breached its banks spreading up to 200 meters inland in places," said Freeman. "Families had built along the riverbanks and planted rice crops, which have now all gone. Many villages are completely covered by water and can't be seen.
"The annual seasonal peak of the river is in December following the rainy season, which hasn't begun yet so this amount of rainfall is very unusual for this time of year."
Further need assessments will be made in Tillabery and Dosso. Many areas of Tillabery are still inaccessible and 246 villages disappeared underwater in Dosso.
"The capital, Niamey, is a built up urban area so it is hard to find locations for suitable sites to set up tents where people will be willing to go," said McElroy. "We need to find areas close to their homes and where other nongovernmental organizations will support people with water, light, security, food and sanitation. We will be visiting some sites proposed by the government over the next few days."
Freeman has deployed with ShelterBox more than 10 times—including to Niger after flooding in 2010, Japan following the earthquake and tsunami in 2011 as well as to Zambia, the Democratic Republic of Congo, Colombia and Guatemala.
ShelterBox also has teams working in Haiti following the aftermath of Tropical Storm Issac and the Philippines after massive flooding. The ShelterBox operations team continues to monitor Tropical Storm Issac and the 7.3 magnitude earthquake that hit off the coast of El Salvador on Monday.
Since 2000, ShelterBox has provided shelter, warmth and dignity following more than 180 disasters in over 80 countries. ShelterBox's American affiliate, ShelterBox USA is headquartered in Sarasota, Florida. Individual tax-deductible donations to ShelterBox USA can be made at http://www.shelterboxusa.org, (941) 907-6036 or via text message by sending SHELTER to 20222 for a one-time $10 donation.