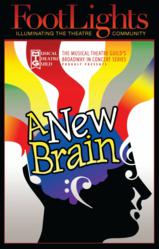 We are an important marketing partner for California theatres of all sizes and our growth indicates we are a trusted resource for theatres interested in presenting a polished, well-produced image to their audiences."
Los Angeles, California (PRWEB) August 31, 2012
Footlights Publishing Inc., the leading publisher of full service cross-marketed theatre programs in California, today announced it continues to move closer to a distribution of one million.
The California company says its relentless growth in the small mid-size theatre houses is steadily moving the company closer to reaching the one million distribution milestone in 2013.
FootLights officials report that the company booked a distribution of 400,000 playbills so far this year as of August 30. If FootLights continues its significant growth, company officials say they have reason to believe they'll almost double their 2011 distribution numbers and set the stage for achieving one million next year.
"FootLights has experienced considerable growth in 2012 and we expect it to continue," says Peter Finlayson, founder and CEO of FootLights Publishing, Inc. "We are an important marketing partner for California theatres of all sizes and our growth indicates we are a trusted resource for theatres interested in presenting a polished, well-produced image to their audiences."
The theatre publisher's growth comes from an increased market share in the Los Angeles metropolitan market and a continued penetration in the San Francisco Bay Area. Finlayson says it all has to do with FootLights' reputation for excellence in offering theatres a high quality, affordable marketing piece that piques audiences' interests.
"Theatre playbills are an important aspect of theatre branding and marketing. Our playbills create an opportunity for all theatres whether small or large to present a professional image and raise their profiles with theatre enthusiasts," says Finlayson.
In addition to its increased distribution figures for the FootLights theatre playbill, FootLights continues to develop unique marketing platforms that help theatres reach fresh audiences.
The company launched a weekly email called FootLights Passport in July 2012 that spotlights a select number of shows throughout Los Angeles. FootLights plans to unveil its San Francisco version of Passport in the coming months.
And as a compliment to its weekly Passport, FootLights will soon unveil a new consumer website dedicated to reaching a more youthful entertainment consumer.
"Theatre in Los Angeles and the San Francisco Bay Area is robust and captivating. FootLights is dedicated to continuing its efforts to develop marketing services that communicate the unique qualities of Los Angeles and Bay Area theatre," says Finlayson.
About Footlights Publishing
Footlights Publishing, Inc. is the publisher of Footlights theatre programs for theatres of all sizes in California. The mission of Footlights Publishing, Inc. is to "illuminate the theatre community and expand audience interest and participation in California's ever-expanding, diverse, and creative theatres."
###