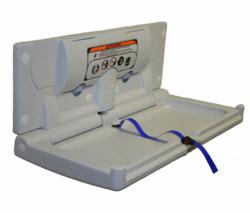 Exclusive Range of Baby Changing Tables
(PRWEB UK) 31 August 2012
A Baby Changing Station is very important furniture for the baby's room and Prestige Washrooms is bringing the best quality of them with their new range of products for baby care units. These changing tables have been designed specially while keeping in mind all the needs of baby and parent. These changing tables are comfortable and have enough space for the baby to move. This range of baby changing table comes with compact designs which are best in terms of storage. These tables can fit into any room and have enough space on the top for both the baby and the baby's changing items.
The Baby Changing Station are the wall mounted tables that are very easy to clean and thus , hygienic option to use for babies. They are fully tested to 177 kg (27stone). The table has got a very sleek design and innumerable features that make it a better choice. It has handy hooks on the both sides to hang the changing bag to avoid keeping it on the floor. Though the table has the sleek design, it has enough space to accommodate all the baby stuff. In addition, it can be fitted into minimalist spaces. For those parents who can't see, it has Braille user instructions are pre-moulded on it. It has a Safety belt with cam-buckle that can be adjusted with one hand. This is an extremely useful feature when a parent has to handle a wriggling baby with ne hand and change baby's nappy with the other hand.
The Dolphin vertical baby changer includes easy reading step by step fitting and user instructions plus all mounting hardware & "FREE" Aluminum baby changing facilities door sign. Exceeds British Standards: US ASTM S2385
These Baby Changing Units can surely be trusted as the best option for the parents, as Prestige Washrooms has earned this trust with all of their products. The best thing about their products has always been the unique thoughts behind them. Their products have been designed to match with the needs of the users to make the products more efficiently, and these changing units are no different. They are well equipped and well designed to make sure that the units take of all the changing needs of the baby. This is one thing for which Prestige Washrooms should earn some credit.
After the release of these changing tables for kids, the sale has improved faster, because the quality and facilities of these tables have been liked by the parents. They can not only find more organized solution for the changing, but they can also provide their children with maximum comfort. The baby changing units UK is surely making a significant mark with the increasing sale and affectability, and for that Prestige Washrooms can be really proud, as they have produced the best possible solution for baby changing.
For more ifnormation, visit http://www.prestigewashrooms.co.uk/Baby-Changing-Tables/