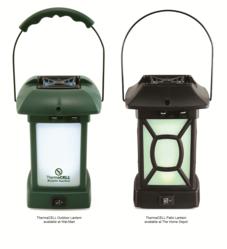 ThermaCELL is approved by the EPA to be 97% effective against mosquitoes.
Bedford, MA (PRWEB) August 31, 2012
West Nile infected mosquitoes have been reported in 47 states this summer, according to reports by the Center for Disease Control and Prevention, with 37 reporting at least one human incident. Consumers are concerned and want DEET-free protection, such as ThermaCELL lanterns and appliances, so they do not have to worry about topical chemicals.
ThermaCELL, the most effective area repellent available, has been approved by the EPA and found to be up to 97% effective in tests conducted by the US Department of Defense in Costa Rica.*
While most preventative measures call for DEET, ThermaCELL products are the only non-topical repellent option on the market that are just as effective as any product containing DEET, have no odor and work in minutes. ThermaCELL lanterns and appliances can discreetly protect everyone at your family gathering, replacing the need to douse in DEET. Simply turn-on ThermaCELL and watch as a 15x15 foot area is cleared from pesky biting bugs.
With wet weather warnings from Hurricane Isaac and mosquito season (usually ending in September) not even close to reaching its peak, ThermaCELL allows consumers to continue to entertain outdoors despite the intrusion of uninvited guests. Twice recognized by Good Housekeeping as the table top solution for keeping bugs at bay, ThermaCELL is quickly gaining brand recognition in the U.S and is sold in 22 countries nationwide.
How ThermaCELL Works
ThermaCELL area mosquito repellent Lanterns and Hand-Held Appliances are small and portable. The ThermaCELL butane cartridge heats a mat releasing allethrin, an insect repellent that is a synthetic copy of an insecticide found in chrysanthemums. Each mat contains enough repellent for four hours of protection and works in minutes. Each butane cartridge lasts 12 ours.
ThermaCELL, a division of The Schawbel Corporation of Bedford, Massachusetts is a leading innovator of outdoor comfort technology. With a rich 30 year history, ThermaCELL products include award-winning ThermaCELL Mosquito Repellent products to keep bugs at bay and Heated Insoles to keep feet warm during cold weather activities. For more information, visit http://www.thermacell.com or call 866-753-3837. For media inquiries please contact Dawn Ryden at Dawn(at)AvalonPRGroup(dot)com
*Scientific Data available Upon Request
###