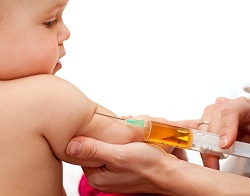 This study suggests the need to shift the paradigm from thinking simply about diet and exercise to other environmental exposures.
Newport Beach, CA (PRWEB) August 30, 2012
A new study has been released that links early infant antibiotic use to overweight children later. What the study specifically notes is that infants less than 6 months old who were given antibiotics were 22% more likely to be overweight between the ages of 10 months and 3 years.
The study was done in the United Kingdom, and the parents agreed to the study before their children were even born. There were over 11,000 babies in the study sample. They took into account other factors, such as the weight of a baby's parents, whether the mother smoked while pregnant, the parents' socioeconomic status and what the baby ate. However, these factors did not seem to change the basic relationship between infant antibiotic use and weight gain.
The children were checked at birth and then after 7 weeks, 10 months, 20 months, 38 months, and 7 years of age.
What was interesting in the study was babies that were slightly older, over six month old, did not experience the same increase in body mass as the younger infants when they were given antibiotics. Additionally, the body weight of the children tended to return to the normal range by the time the children were 7.
This could be due to the balance of bacteria in an infant's digestive tract. Younger babies do not have the same bacterial balance as an older baby, so introducing antibiotics can lead to an over-absorption of calories and thus, obesity, according to Dr. Leonardo Trasande, the study's author and an associate professor of pediatrics at New York University.
Doctors were quick to point out that parents should not abstain from all antibiotic use, especially when they are clearly needed.
"This will affect our thinking about the obesity epidemic," said Dr. Trasande. "This study suggests the need to shift the paradigm from thinking simply about diet and exercise to other environmental exposures."
John Bisnar, of the Bisnar | Chase personal injury law firm is interested in the study's results. He believes "we need to understand that pharmaceuticals of any kind can have long-term effects that we aren't really aware of, even after years of use. This study confirms that perhaps we shouldn't be so quick to use antibiotics on young infants without taking into consideration of other factors. As consumers and parents, we need to keep ourselves informed."
The Bisnar | Chase law firm specializes in Orange County pharmaceutical litigation and defective medical products as well as other product liability issues. If you feel you have been the victim of someone's negligence, contact Bisnar | Chase at 800- 561-4831 for a free consultation or go to http://www.orange-county-lawyers.com.