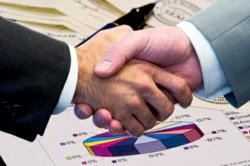 The entire FastTrackGov suite has been designed to help government organizations.
St. Louis, Missouri (PRWEB) August 30, 2012
Each year, hundreds of municipal officials gather at the FLC (Florida League of Cities) Conference to learn innovative methods and practices to better their communities. This year, Mitchell Humphrey joined these officials for the 86th Annual Conference and displayed its community development software, known as FastTrackGov® (FTG®).
The FLC advocacy covers state and federal levels. Its goals are to increase public knowledge of municipal services and issues, provide municipal officials with training and technical assistance, and offer cost-effective programs and products to local governments.
"The entire FastTrackGov suite has been designed to help government organizations use technology to better connect with and serve their constituents," stated Kim Schaefer, President and COO of Mitchell Humphrey.
The FTG Connect® web portal was presented to demonstrate how it allows cities to accept payments for licenses, permits, or other fees. Many of the attendees found this to be an incredible resource, and officials discovered that FTG's on-line messaging could be used to track conversations by both officials and citizens. Its use can also provide cost-effective and personalized service to their community.
Mitchell Humphrey was pleased to witness this year's keynote speakers: Peter Kageyama, John Avlon, and Clarence Anthony. With a focus on citizen engagement, Kageyama pointed out the key qualities that make a city lovable and motivate citizens to do extraordinary things for their beloved cities. As a top motivational author, Kageyama educated attendees on how some cities have used that energy to fill the gaps that "official" city makers have overlooked as their resources become scarce. He spoke on how officials can turn people's emotional engagement with their neighborhood into tangible action and use that excitement and energy as a much needed community development resource. His speech tied into the importance of having a web portal, like FTG Connect, to communicate and serve the public.
Avlon analyzed the "Big Swing" – the pivotal role Florida and a handful of other major swing states will play in the November elections. He touched on how the swing districts, in these swing states, will affect the final outcome. He also addressed the major impact of the growing number of independent voters and what the current polls and other down-ticket races tell us about possible election results. With a keen eye on the upcoming months after election, Avlon explored the likelihood of a polarized Congress and how the FLC attendees can step forward.
Anthony led the audience in leadership skill building and how to develop an effective and confident style. With his many years of experience in public service, he discussed how important it is for municipal leaders to be assured and knowledgeable so that they can make confident decisions within their communities. Anthony stressed the importance of adopting a commitment to constant learning and how it will certainly help officials deal with the changing nature of governance.
With its FastTrackGov product line, Mitchell Humphrey was proud to say that it opened the doors to more open governance and transparency. Mitchell Humphrey knows how important it is for the FLC to continue to explore new ideas for programs, products, and services to meet the needs of municipalities today and tomorrow.
About Mitchell Humphrey
Since 1977, Mitchell Humphrey has been providing software and services to clients in both the public and private sectors. Today, clients across North America benefit from our solutions in citizen services, accounting, human resources/payroll, community development, and cashiering.
FastTrackGov is Mitchell Humphrey's suite of products intended to facilitate communication between government and their constituents providing for a completely integrated organization. Municipal and county governments, agencies, special districts, and taxing authorities have all benefited from the ability to manage a broad array of citizen services from this single, fully secured, integrated system.