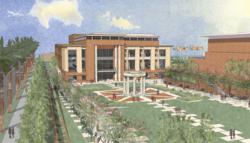 (PRWEB) August 30, 2012
What: Groundbreaking Ceremony for new Chapman University Center for the Arts, featuring opera star Placido Domingo and other special guests
When: Thursday, September 6, 2012 at 10:30 a.m.
Where: Chapman University, project excavation site at the corner of Glassell and University Drive, Orange, Calif. (GPS: One University Drive, Orange, Calif.)
Details: Chapman University will stage a groundbreaking ceremony for its new $64 million Center for the Arts on Thursday, September 6 at 10:30 p.m., on the project's large construction site at the corner of Glassell and University Drive in Orange, Calif. The center will be a major new addition to the artistic life of Orange County and will serve as an outstanding artistic venue for the central part of the county as well as the university and City of Orange.
Among the special guests scheduled to appear in the ceremony, hosted by Chapman President James L. Doti, will be famed opera star Placido Domingo, artistic director of the Los Angeles Opera. S. Paul and Marybelle Musco, co-chairs of the center's successful fundraising campaign, will also offer remarks, as will Dr. William Hall, dean of the Center for the Arts.
Chapman's Center for the Arts, at 1,050 seats, will be located on a site that spans the entire block at the northwest corner of the campus. This dynamic, state-of-the-art, fully technically-equipped facility will be a home for Chapman's acclaimed student performers and ensembles in its College of Performing Arts, including the Chapman orchestra, bands, opera, theater department, dance department and more. The center will also present internationally acclaimed professional performing artists and ensembles, is planning collaborations with other arts venues and organizations in Southern California, and will serve the City of Orange as a venue for city and community events.
MEDIA: Media are welcome to attend and cover the groundbreaking ceremony. We have new architectural renderings of the center that we can send you in advance or give to you at the ceremony.
Please contact me at the Media Relations office if you would like to do advance interviews, obtain the high-res renderings and further details about the center, and for parking directions if you plan to attend.