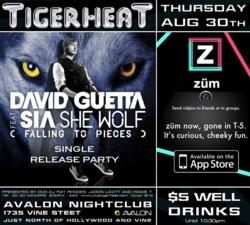 Los Angeles, CA (PRWEB) August 30, 2012
züm, the first iPhone app that allows users to send "no-regrets" video messages to their friends, will be celebrating their launch tonight, August 30th, at Hollywood's most infamous 18+ club – TigerHeat.
züm is the first release from Divide Nine, a Los Angeles based entertainment technology studio, and is the first app to deliver "no-regrets" messaging. The app, which hit the iTunes App Store on August 9, 2012, allows users to send an unlimited amount of five-second video messages to their friends, which immediately self-destruct after being viewed, Tom Cruise – "Mission Impossible" style.
The night will be filled with cheeky, züm-tastic fun, and of course, no regrets. Attendees will be among the first to adopt the iOS app that is revolutionizing the way people create and share video content.
"We are so excited to be launching züm in a venue with an audience that is so receptive to new and innovative social technologies. Attendees will really enjoy being able to share quick videos of their experience at TigerHeat with their friends and on the big-screen," says Nick Loui, creator of züm and Head of Interactive at Divide Nine.
Krishna Gopala, CEO of Divide Nine says "We look forward to introducing züm to the 'who's who' of Hollywood and making a lasting impact on that community."
Uber, L.A.'s first on-demand private driver for iPhone and Android, will be providing transportation for the evening's festivities. Guests will receive a complimentary ride (up to $30) that starts or ends at TigerHeat. Guests can redeem the promotion by entering code: LAzumapp before requesting their ride by registering at http://www.uber.com.
About Divide Nine:
Divide Nine is uniquely positioned at the intersection of entertainment, feature animation and social technology. With a team of seasoned, heavy hitting industry execs combined with emerging, fresh talent, Divide Nine is a rapidly growing studio at the heart of LA Technology and Entertainment. Krishna and Lisa founded Divide Nine in 2008 after successful tenures as top executives at companies such as Philips Electronics, MySpace, and Ticketmaster. For more information visit http://www.dividenine.com.
Media contact and press RSVP's: Jenn Deese, Melrose PR, jenn(at)melrosepr(dot)com, 310-450-7960, http://www.melrosepr.com