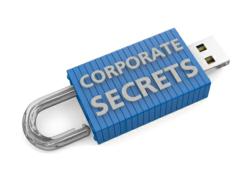 There are all kinds of ways company data can be maliciously used by a disgruntled former employee, from exposing intellectual property secrets, stealing client and vendor information, identity and credit card theft, to flat out embezzlement
New York, NY (PRWEB) August 31, 2012
From the early 80s, when "going postal" became a part of the American lexicon, to last week's "Empire State" shooting, the extremes which can unfold when disgruntled employees decide to hold a grudge and make headlines can be horrifying. Thankfully, most people aren't wired for such extremes; common sense, morality, religion and/or a whole host of other factors walk almost everyone that feels they've been wronged by an employer or work colleague back from such drastic extremes. But that's not to say that revenge and animosity can't take other forms which can severely damage a business, by affecting its production, its clients, its reputation, and of course its bottom line, all by using company data at their disposal.
Global Digital Forensics founder, Joe Caruso, has been helping businesses improve their cyber security posture from threats of all types for many years, which gives him unparalleled insight into the cyber security problems facing corporations, businesses and agencies of all sizes. One common thread he often sees overlooked is how to process out an employee that has, or has had, access to sensitive internal data.
"There are all kinds of ways company data can be maliciously used by a disgruntled former employee, from exposing intellectual property secrets, stealing client and vendor information, identity and credit card theft, to flat out embezzlement, just to name a few. This prompted us to develop an effective, yet cost-efficient program to fill this important gap and give businesses the ability to see exactly what data could have been exposed and give them the information they need, all acquired in a forensically sound and defensible manner, should legal steps need to be taken," Caruso said.
What Does an Electronic Exit Interview Entail?
"The first thing we do is make a forensic image of the employee's hard drive, and if necessary, we can also do the same thing with mobile devices. Then one of our certified forensic technicians will extract all the electronic correspondence, like email, online chats and social networking etc., as well as documents and other information deemed pertinent according to the concerns of the client. Then we will generate a full forensics report detailing the drive contents, the results of our searches, and a full description of our forensically sound process with all the relevant technical data. And since we are intimately familiar with the world of electronic discovery and the nuances of digital evidence and computer forensics, our clients can rest easy knowing that our findings will stand up to even the highest levels of scrutiny from the opposition or the court."
"Once we have a better understanding of the client's unique situation, we can also set up package deals for multiple exit interviews, so that whenever an employee departs, for whatever reason, we'll have the process in place to repeat it as often as necessary. It's definitely a low risk and high reward situation if you consider what can happen when internal cyber assets are misused. And it should come as no surprise to anyone that when an employee is terminated, desperation and revenge can easily become driving forces which lead people to do unthinkable things. The key is protecting the business right out of the gate. Even on just a psychological level, if an employee is made aware of the electronic exit interview process, chances are they will think long and hard before trying any funny business with corporate cyber assets, but if they don't, our electronic exit interviews will stack the deck for our client with the strong cards they'll need should any future actions become necessary."
Timing is everything when it comes to performing an electronic exit interview for a departing employee, so don't wait until your sensitive company data is already out the door, contact Global Digital Forensics today.
*Global Digital Forensics is a recognized leader in the fields of computer forensics and cyber security. For a free consultation with a computer forensics/cyber security specialist to get more details about the Global Digital Forensics Electronic Exit Interview program and to have a plan tailored to suit your unique situation and needs, call 1-800-868-8189 anytime 24/7. You can also visit http://www.evestigate.com for more information.