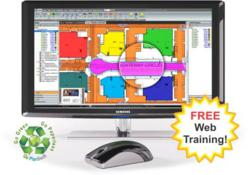 Our product has really been resonating quite well with contractors and estimators in this market said Matt Miller, VP of Marketing for PlanSwift.
Bountiful, Utah (PRWEB) August 30, 2012
PlanSwift is pleased to announce its expansion into the UK market. Paul Clayton Associates will be heading up the UK expansion and will serve as PlanSwift's exclusive software distributor. The UK market has shown tremendous interest and growth in digital estimating and PlanSwift has acted to capture that market.
"Our product has really been resonating quite well with contractors and estimators in this market" said Matt Miller, VP of Marketing for PlanSwift. PlanSwift has been continuing its market expansion for the past two years by working with groups who not only understand their markets, but have the required industry knowledge to help the clients make an informed decision. Miller also says "Paul Clayton has years of experience in the industry and brings to the table an in-depth knowledge of the customer base, and understands the requirements set forth by the contracting and estimating community."
Marco Spalla, Director, PlanSwift International says "Clayton Assoc. has the knowhow, resources, and drive to ensure customer satisfaction. It's really the most important aspect when we're reviewing a potential partner and bringing on overseas representation. Understanding the pulse of your market and being able to provide top-notch support and service is obviously paramount to any business but it's our driving force at PlanSwift. We're not just a software developer and provider, we're a partner to our customers. Having Paul Clayton Associates head up the UK growth is absolutely a win, win, for everybody involved."
Paul Clayton had this to say. "I believe that Construction is about to go through an information revolution that will shape the industry in the future - the way that projects big and small are estimated. There is a need to move away from a paper based system to one that offers advantages in terms of quick and accurate assembly of information, the capacity to make changes and to share information with other disciplines, colleagues and project partners easily. Having evaluated a number of alternatives we thought that PlanSwift offered the best combination of functionality, cost and a solid programming architecture that would be robust in everyday usage. Having started to introduce the software to a wider audience it is very reassuring that our customers feel the same way. The final element was the 'can do' attitude that prevails at PlanSwift which makes working with them a real pleasure."
The increase in the housing and construction market seems to be a global uptick, and not just a US based statistic. With that in mind Spalla says their next venture will be India, which has shown incredible expansion, even through the worst of the construction slow down.
James Purpura, PlanSwift President says, "We're thrilled to be working in the UK, and to have such a great partner that reflects PlanSwift goals and values. This is an exciting time in this industry and we're looking forward to having Paul Clayton Assoc. as a partner."
About PlanSwift
PlanSwift LLC. is a leading provider of takeoff and estimating software to industry professionals. The PlanSwift Company has developed software to enhance the construction industry's daily takeoff and estimating needs. More than 15,000 industry professionals, in over ten countries, use PlanSwift to help them complete more precise and accurate bids every day. For more information about PlanSwift, please visit the company's website at http://www.planswift.com
If you would like more information about the program or company, or to schedule an interview with Matthew Miller, please call (888) 752-6794 ext. 729 or email marketing(at)planswift(dot)com.