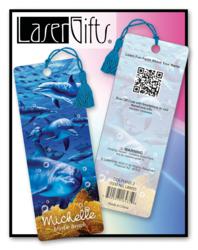 Prescott, Ariz. (PRWEB) August 31, 2012
The souvenir powerhouse, LaserGifts, debuted its 4D Bookmark Name Program in select market tests throughout the summer months of July and August. Initial performance was met with rave reviews from specialty retailers, souvenir shops, and bookstores alike. Shipping immediately, this personalized program includes a fascinating new development in patent-pending QR code technology. Printed on the back of each bookmark is a QR code that links to NameFacts.info. This website includes everything a consumer wants to know about their name including origin, meaning, and name popularity statistics. These fantastic sales results coincide with reports proving that traditional print books and their accessories continue to outsell e-books.
According to a series of telephone surveys conducted by the Pew Research Center's Internet & American Life Project, only 19% of Americans reported owning an eReader device or tablet as of February of 2012. This same study, funded by the Bill & Melinda Gates Foundation, found that 85% of those who do not currently own an eReader device do not plan on purchasing one in the future. The results also suggest that eReader owners actually help boost traditional print book sales, because they read more than their counterparts who do not own such devices. "The average reader of e-books says she has read 24 books (the mean number) in the past 12 months, compared with an average of 15 books by a non e-book consumer," states the study. Additionally, 58% of eReader owners admit that they continue to purchase books in print.
When delving into actual sales of printed books versus e-books, traditional print dwarves digital. According to Sean Ludwig of Venture Beat, e-book sales reached $441 million in 2010. Although an impressive figure, this $441 million only makes up 8.3% of the $4.8 billion of total industry sales that same year.
Another popular misconception about the market is that only older people continue to buy printed books. An article published by Mary Ann Gwinn of The Seattle Times highlighted how half of all Americans over the age of 13 purchase books. Morris Rosenthal of Foner Books recently reported on the impact of textbooks on printed book sales. Elementary through High School textbook sales account for over $5 billion annually. When examining higher education, one can look to Barnes & Noble College Booksellers. While operating only 641 college bookstores in the United States, this single entity accounts for almost $2 billion in book sales alone.
Retailers will have the opportunity to view and interact with a 4D Bookmark Name Program display at the upcoming Las Vegas Souvenir & Resort Gift Show from September 11th through 14th at booth 1209. LaserGifts will also be attending The Gathering in Orlando, Florida from October 7th through 10th, as well as the International Gift Exposition in the Smokies occurring in Sevierville, Tennessee from November 6th through 10th. For more information on the program, contact sales(at)lasergifts(dot)com or call 888-674-6612.
# # #
LaserGifts is a top manufacturer of quality gift, souvenir, and novelty products. LaserGifts currently employs over 100 people between its three facilities that make-up the company's headquarters in Prescott, Arizona, and its national sales force exceeds 200 representatives. In 2009, the business was featured as one of the 500 fastest-growing private companies on the celebrated Inc. 500 Growth Companies list. With its dedication to personal service as well as its inventive and ever-expanding product line, LaserGifts is confident in attaining goals for future growth and profitability.