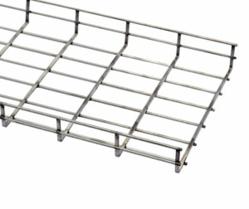 WESTLAKE VILLAGE, CA (PRWEB) August 30, 2012
August 2012 - Chatsworth Products, Inc. (CPI), a global manufacturer providing products and solutions that optimize, store and secure technology equipment, will exhibit its latest innovations in Aisle Containment and cable tray during the BICSI Fall Conference and Exhibition in Anaheim, Calif., held Sept. 16-20. Widely known for creating Aisle Containment Solutions that greatly reduce cooling costs for data centers, CPI will display a total solution approach in Booth 1914 that also includes the OnTrac® Wire Mesh Cable Tray System, Universal Rack, Evolution® Cable Management and zone enclosure products.
OnTrac Shaped Wire Mesh Tray is the latest addition to CPI's extensive line of cable tray products, and was designed as an alternative to traditional wire basket trays that use round cross wires. Using flattened cross wires instead, OnTrac Shaped Tray offers 400% more contact surface area than many standard wire mesh tray products and a 63% reduction in cable strain. OnTrac Shaped Wire Mesh Tray also uses the same installation techniques, splices, supports and accessories as CPI's Standard Wire Mesh Tray—and is offered at the same price.
BICSI attendees will also get a first-hand look at Cold Aisle Containment Solutions by CPI, which use an airflow management strategy that effectively utilizes 100% of supplied air and reduces chilled air waste in data centers. This total approach to thermal management, seen installed with two glacier white F-Series TeraFrame® Cabinets, is capable of eliminating hot spots, increasing set points on cooling equipment and supporting 4x higher heat and power densities.
In addition to being a longtime exhibitor at BICSI conferences and events, CPI is also deeply involved with BICSI's training initiatives. CPI's most recent endeavor includes the Data Center Power and Cooling Efficiency Seminar, which offers eight BICSI credits in a single day of training. For more information or to register for one of the remaining 2012 dates, visit http://www.chatsworth.com/data-center-seminar/.
About Chatsworth Products, Inc.
Chatsworth Products, Inc. (CPI) is a global manufacturer providing voice, data and security products and service solutions that optimize, store and secure technology equipment. CPI Products offer innovation, configurability, quality and value with a breadth of integrated system components, covering virtually all physical layer needs. Unequalled customer service and technical support, as well as a global network of industry-leading distributors, assures customers that CPI is dedicated to delivering products and services designed to meet their needs. Headquartered in the US, CPI operates global offices within the US, Mexico, Canada, China, the Middle East and the United Kingdom. CPI's manufacturing facilities are located in the US, Asia and Europe.
CPI is listed with the General Services Administration (GSA) under Federal Supply Schedule IT 70. Products are also available through GSA Advantage and through Government Wide Acquisition Contracts (GWACs), including GSA Connections and NITAAC-ECS III. (http://www.chatsworth.com/gov)
Media Contact
Craig Ramey
Public Relations Specialist
Email: cramey(at)chatsworth(dot)com
Phone: (+1) 252-635-4264
More Information
Visit: http://www.chatsworth.com
Email: info(at)chatsworth(dot)com
Toll-Free: 800-834-4969
###
All products quoted are subject to availability based on manufacturing capacity and shipping dates should be considered estimates only. While every effort has been made to ensure the accuracy of all information, CPI does not accept liability for any errors or omissions and reserves the right to change information and descriptions of listed services and products.
©2012 Chatsworth Products, Inc. All rights reserved. CPI, CPI Passive Cooling, MegaFrame, Saf-T-Grip, Seismic Frame, SlimFrame, TeraFrame, GlobalFrame, Cube-iT Plus, Evolution, OnTrac, QuadraRack and Velocity are federally registered trademarks of Chatsworth Products, Inc. eConnect and Simply Efficient are trademarks of Chatsworth Products, Inc. All other trademarks belong to their respective companies.