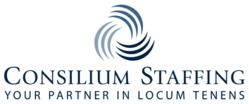 Consilium Staffing is committed to giving our clients exactly what they need, and our new focus on emergency medicine is another example of us responding to those needs
Irving, TX (PRWEB) August 31, 2012
Consilium Staffing has responded to the increasing shortage of emergency room physicians by forming its Emergency Medicine team focused on locum tenens staffing of emergency medicine physicians and ER-trained midlevel providers. Emergency Medicine is the branch of medicine concerned with the prompt diagnosis and treatment of injuries or trauma or sudden illness and may be practiced in a hospital-based or freestanding emergency department (ED), in an urgent care clinic, in an emergency medical response vehicle or at a disaster site (definition provided by American College of Emergency Physicians, August 2007.)
John Moberly, Consilium Staffing Vice President, sees an opportunity to aid underserved medical facilities in communities across the US. "The emergency department clients we partner with have experienced a significant increase in their patient visits on a year over year basis. Locum tenens emergency physicians have played a significant role in our clients' ability to serve the healthcare needs of their community along with providing the continuity of care that is so vital in the hospital environment."
The specialty of emergency medicine, formally recognized by the American Board of Medical Specialties in 1979, began with the vision of providing specialized care to the critically ill by well-trained emergency physician specialists. The rate at which physicians are being trained, however, has lagged behind growing demand. According to recent statistics reported in the Annals of Emergency Medicine ("National Study of the Emergency Physician Workforce, 2008") the United States has nearly 40,000 clinically active emergency physicians, but these numbers are not adequate to treat the growing number of people who visit emergency departments each year.
Shortages are expected to continue for several decades, particularly in rural areas and the central part of the country. According to the 2008 American Medical Association Physician Masterfile, of emergency physicians who graduated 20 years ago or more, 15 percent are practicing in a rural area. By contrast, of emergency physicians who graduated within the past five years, only five percent are currently practicing in a rural area.
"Consilium Staffing is committed to giving our clients exactly what they need, and our new focus on emergency medicine is another example of us responding to those needs," said Matt Baade, Executive Vice President for Consilium. "We recently created specialty-focused teams for psychiatry, primary care, hospitalists, and we now emergency medicine. The creation of these specifically focused teams ensures that we have experts in the respective fields who are able to efficiently and effectively respond to our clients' needs," added Baade.
"Locum tenens" is a Latin phrase meaning "to hold the place of." Consilium Staffing partners with hospitals, primary care offices, urgent care centers, correctional institutions and other healthcare facilities that may be understaffed or underserved by sourcing physicians, nurse practitioners and physician assistants who are able to provide coverage on a temporary contract basis.