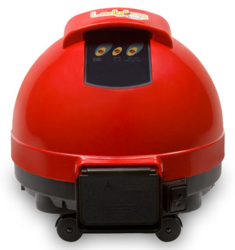 In addition to wallpaper removal, the Ladybug 2150 is used to clean almost everything around the house.
Lake Forest, IL (PRWEB) August 31, 2012
1-800-GO-VAPOR.com, a leading marketer of vapor steam cleaners with customers in every state in the nation and seven foreign countries, today announced that it intends to actively market the Ladybug 2150 steam cleaner to consumers looking to remove wallpaper.
"Until now, wallpaper removal was a task no one looked forward to, particularly if you try dry-stripping it off the walls with your bare hands," says V. K. Dunlop of 1-800-GO-VAPOR.com.
According to Dunlop, many people avoid the job by painting over old wallpaper. "But this never quite looks right," she says. "And it's a real problem for those who decide to remove the wallpaper in the future."
Dunlop says the chore is easier if you soak the walls with a chemical wallpaper remover added to hot water. "But be forewarned," she adds, "this exposes you to toxic fumes. It also damages your walls, particularly if they are drywall, by overwetting. The safer and more efficient way to remove wallpaper is with vapor steam."
With a vapor steam cleaner like the affordable Ladybug 2150 steam cleaner all one does, according to Dunlop, is glide the heated vapor across the wall. The vapor softens the paper and paste and allows the paper to be stripped easily with a wide putty knife. And because vapor steam is only 5% water, there is little danger of damaging walls.
In addition to wallpaper removal, the Ladybug 2150 is used everywhere to clean almost everything around the house—including kitchens and bathrooms, floors, grout, children's toys, workout rooms, auto interiors, scatter rugs, pet areas, and much more. It removes allergens, kill bacteria, and removes mold and mildew. It even kills dust mites and bed bugs on contact.
"At a measly 15 pounds, it's hard to believe something so lightweight can clean so many things so thoroughly," says Dunlop.
Located in Lake Forest, Illinois, 1-800-GO-VAPOR.com is moving fast to educate consumers and businesses that finally, there's a feasible, environmentally friendly alternative to chemicals. The company markets Ladybug, Reliable and Vapamore steam cleaners. For more information, call 1-800-468-2767. 1-800-GO-VAPOR.com is a proud member of the Safer Chemicals, Healthy Families coalition, a nationwide effort to protect families from toxic chemicals. To stay safe and avoid toxic chemicals, keep abreast of the latest news with 1-800-GO-VAPOR.com's Twitter account, @1800GOVAPOR.