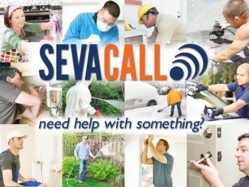 We can't get you cheesesteaks instantly, but we can do the next best thing: save you time and money!
Philadelphia, PA (PRWEB) August 30, 2012
Seva Call, a new company that instantly connects consumers in need of service to high quality service professionals, is now available for use in Philadelphia. Seva Call President Manpreet Singh graduated with an MBA from the University of Pennsylvania's Wharton School of Business in 2009.
"It's such a great feeling to bring my company to Philadelphia, since I got so much of my business knowledge here," says Singh. "I'm proud to offer a solution to Philadelphians who need service help. From my time in Philly, I know firsthand that there are a lot of old houses that need tons of work done to them. Students and professionals are often too busy to take time to do the repairs themselves or make the countless calls necessary to find the right professional. Seva Call is the answer. We can't get you cheesesteaks instantly, but we can do the next best thing: save you time and money!"
Consumers with service needs navigate to http://www.sevacall.com and enter their location, availability, and a brief description of their service need. Seva Call's algorithm connects the consumer to up to three service professionals who can best help based on proximity, consumer ratings through sites such as Yelp and Google Reviews, and social interactions on sites like Facebook and Twitter.
Seva Call is ready to connect consumers to in Philadelphia to more 12,000 local professionals in 50 different industry categories, including categories such as computer repair, plumbing, and even auto glass repair. Seva Call recently launched in Washington D.C., Baltimore, Richmond, and Virginia Beach and their surrounding areas. The company plans to launch its service in Boston and New York in the near future.
In Philadelphia's local phone directory, there are listings for almost 1,000 plumbers alone. Consumers spend valuable time researching and calling businesses trying to find one that meets their specific need, location, availability, and—above all—quality expectations. Seva Call instantly does the research and makes the calls on behalf of consumers. In an average of 97 seconds, consumers who submit a request on with Seva Call are connected via telephone to a professional who meets all of their personal needs and requirements.
In November of 2011, Seva Call, which is headquartered in Potomac, Md., raised $1.3 million in Series-A funding from angel investors and venture capitalists. The company plans to release free iPhone and Android apps before the end of the calendar year.