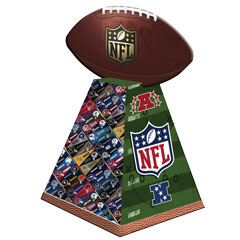 Chicago, IL (PRWEB) August 31, 2012
The 2012 NFL season kicks off with the Dallas Cowboys at the New York Giants on Wednesday September 5th at 8:30 PM ET, while the rest of the league's teams compete against each other the following Sunday and Monday. Spend the entire week celebrating the start of one of America's favorite pastimes. Windy City Novelties provides a large selection of fun and festive football party supplies to celebrate the beginning of the 2012 football season!
Host a football happy hour for the upcoming Wednesday night festivities. Gather your group of friends and dress up in football party gear to watch the game, whether in the comfort of your own home or in a sports bar. If you decide to host your party at home, you will need flashy LED drinkware to serve up drinks in to add some flare to your get-together. When watching the game at a bar, make sure to stand out by wearing a light up necklace with the color of the team you are rooting for on it!
Spend all football-Sunday watching a majority of the NFL games play each other with NFL party supplies. Serve up game-friendly foods, like nachos and chicken wings, on football paper goods. Let guests grab their drinks out of an inflatable football cooler. Decorate your viewing space with football decorations and banners to get everyone in game mode. If you've already got tickets to one of your team's games this season, make sure you are decked out in some Football Fan accessories to show spirit for your team. Be seen on television wearing your team's colors in face paint or rooting with a number one inflatable hand! Compete against friends during the tailgate in a mini game of football with an inflatable football goal and ball. Add some football fun to a boring and tired Monday by watching the Bengals/Ravens and Chargers/Raiders games.
For those that are also NCAA Football fans, Windy City Novelties has a separate NCAA Party Supplies section. Windy City Novelties makes browsing on their site simple with a separate party supplies section for each college under the NCAA College Store category. Whether you are watching the game from home, or in the stands, you will need corresponding party supplies to turn up the excitement. Make some noise with stadium horns while cheering in the crowd at the game. College football organizations can hand out personalized messages on pens to promote their school's team and encourage some school spirit. Windy City Novelties' endless football party supply section will be sure to add some enthusiasm to your parties and celebrations this football season.
ABOUT WINDY CITY NOVELTIES
Windy City Novelties, a party supply company founded in 1983, is known for their great selection and competitively priced items. They have an A+ rating from the Better Business Bureau and are also a NexTag 5 star Seller. From their website, windycitynovelties.com, they offer fast and friendly shipping along with great customer service. From glow products to party decorations in a variety of themes, and even a vast selection of Halloween costumes at the best prices, Windy City has over 15,000 products and adds more each week.
NFL is a registered Trademark of the National Football League. All other NFL related trademarks are trademarks of the National Football League.