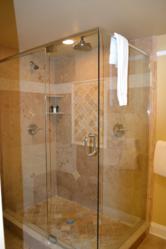 We were lucky to work with some of the best artisans and craftsmen in the St. Augustine area.
St. Augustine, FL (PRWEB) August 31, 2012
St. Augustine's premiere waterfront bed and breakfast, the Bayfront Marin House, has recently completed renovations on several of their most popular rooms.
"Our guests are looking for a luxurious getaway," says owner Mike Wieber. "We have added amenities to some of our guests' favorite rooms that will enhance their stay and help to make their vacation one to remember."
The Forrester Suite, a large room on the bed and breakfast's second floor, boasts water views from each of its three large windows. It recently underwent a complete bathroom renovation, and now offers a large tiled shower with dual showerheads, including a rainshower feature that comes out directly from the ceiling for a soothing, relaxing shower.
The Forrester Suite also has a large corner Jacuzzi tub, surrounded by beautiful tilework.
"The tilework is exceptional," says Wieber. "We were very lucky to work with some of the best craftsmen in the St. Augustine area to complete our renovations." The bath area is separated from the bedroom by a paned French door.
"In addition to the bathroom upgrades, we've added a regal color scheme to the Forrester Suite," says Wieber. "We chose a soothing cream color for the walls, a cheerful blue tint for the ceiling, and royal-looking silk draperies and bedding in burgundy. The result is a romantic, inviting room for all the guests of the Bayfront Marin House." The room also has new Brazilian Koa flooring, which adds to the warmth of the suite.
Other rooms renovated at the bed and breakfast include the Princess Margaret, the King George, and the Marie Antoinette. Photos of each of the rooms can be found at http://www.bayfrontmarinhouse.com.
More Information about the Bayfront Marin House
The Bayfront Marin House in Saint Augustine, Florida is a 15-room, luxury bed and breakfast inn. Located on the Matanzas Bay, the bed and breakfast offers stunning views of the water, along with a hot southern breakfast each morning, daily happy hours, delicious desserts, and the highest levels of personalized customer service. The lodging has recently been awarded TripAdvisor's Certificate of Excellence for 2012.