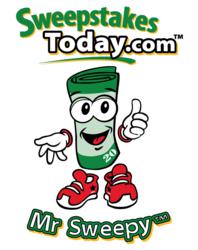 (PRWEB) August 31, 2012
The promotional sweepstakes run by various well-known companies like Ford, the NFL and others are designed primarily to promote brand awareness and brand loyalty according the Craig McDaniel, Founder and CEO of the popular online sweeping site, SweepstakesToday.com (http://www.sweepstakestoday.com).
"I suppose I shouldn't have been surprised," McDaniel, who is known as (Mr. Sweepy) said today, "but I was. Suddenly I realized I was reading stories of winners who were using their winnings to fill the gaps in their budget the current financial conditions have created for so many." "Some of the member's wins truly have been life changing."
One woman spoke of winning "a continuous stream of gift cards" that let her schedule a vacation with her small grandchildren that wouldn't have been possible any other way.
Another told how grateful she was when she won an iPod just in time to give it as a gift to her husband. "It was a nicer gift than I could have afforded otherwise," she said.
A disabled member of the site reported how the win of a $100 gift card arrived just in time to replace a broken vacuum cleaner. That was in addition to the gift card the family has used to buy food.
Another low income member talked of the relief at winning a year's worth of coffee and other food items that helped extend a stretched-to-the-breaking-point budget.
A member who had been laid off spoke eloquently about how the gift cards made celebrations of birthdays and even Christmas possible.
"Most of my members enter sweepstakes as a hobby, as entertainment," McDaniel said. "But for some, winning the sweeps, which cost nothing but time to enter, help them bridge an income gap. I know how that works. Before I started SweepstakesToday.com, I'd just had my second back surgery and was out of work. I started entering sweeps and started winning some significant cash. I in turn used some of the money to start the company and the rest is history. I don't consider myself either lucky or unlucky but do consider myself being in the being in the right place at the right time. The greatest prize I've won is knowing I've helped other to win prizes that would improve their lives."
Sweepstakes Today LLC was launched online in March of 2004. The popular sweepstakes website site is based in Tulsa, Oklahoma and the custom Microsoft ASP/ASPX programming development is done in Salt Lake City, Utah. The website has now published over 37,000 sweepstakes, contest and giveaways. 242 members currently are in the $10K Club having won over $10,000 in cash or prizes.