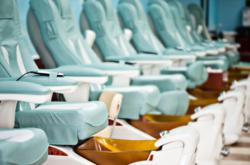 Most salons and spas offer massage services so it only seems natural to expand into that area.
Tampa, FL (PRWEB) August 31, 2012
Spa equipment supplier E-PedicureChairs.com recently unveiled plans to expand their line of spa and salon products to include massage therapy products and equipment. The website primarily offers spa pedicure chairs, manicure tables and related equipment and supplies. They have experienced a steady and consistent rise in sales over the last quarter.
Co-Owner Keith Brandon recently said "We originally launched this website as an experimental concept and received a better than expected response. Most salons and spas typically offer massage therapy services in addition to pedicures and manicures so it only seems natural to expand our product line to meet those needs."
Brandon also alluded to a future possibility of adding skin care equipment as well. "We have a multiple location spa owner on staff as a consultant. She has advised us to expand into several areas of spa and salon products and equipment based on her current demand and what she is seeing from her clients. When your ideal target customer tells you that she can't buy certain products she needs from your website, you definitely listen!"
Brandon also co-owns a pet supply website, primarily focusing on Dog Houses but also plans to expand their product line to accommodate demand for a wider variety of pet products.