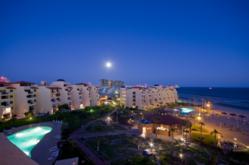 Rocky Point fits the needs of everyone seeking a safe, hassle-free vacation."
Scottsdale, Arizona (PRWEB) August 31, 2012
As Sea Side Reservations prepared for the second surge of tourism in the summer months, the vacation rental company which offers condominiums in Puerto Peñasco, San Carlos, Puerto Vallarta and other areas of Mexico never expected to experience what seemed like an entire tourist season in just one reservation.The company recently booked a corporate retreat consisting of 316 guests, all of whom stayed at the 'Princessa' Condominiums on Sandy Beach in Rocky Point, Mexico for three days and two nights in early August of this year.
Steve Schwab, CEO of Sea Side Reservations has been welcoming corporate travelers to the popular vacation destination for many years. While Rocky Point has always been a popular destination for companies seeking the perfect location for corporate team building, a weekend retreat for employees, or an opportunity for recreation mixed with just the right amount of corporate training, Schwab was surprised to see an entire unit of the Princessa Condominiums occupied for a weekend by a single rental. "This is a great example of what Rocky Point has to offer" Schwab said. "Every day, people are discovering the diverse experiences that Rocky Point provides, from the couples and families looking for a weekend getaway, to a corporation seeking the ideal location to reward their employees or conduct training, Rocky Point fits the needs of everyone seeking a new experience and a safe, hassle-free vacation."
Sea Side Reservations began providing vacation rentals in Mexico in October of 2002 with eight rental condos and 5 employees. After 10 years, Sea Side Reservations now employs over 100 people, offering vacation homes and luxury resort rentals throughout coastal Mexico, including: Puerto Penasco, Puerto Vallarta, Riviera Nayarit, San Felipe, Barra Navidad and San Carlos.
Travelers continue to flock to the easy-going, beach resort town of Puerto Peñasco. A popular spring break destination in April, Rocky Point has seen a recent surge in popularity as an affordable, economical choice for vacation planning. Located about four hours south of Phoenix, the beach resort is easily accessible by car. The community of Puerto Peñasco offers a wide variety of attractions and enticements to visitors, among them; the access to fresh seafood, shopping and exotic culinary excursions. The area has also undergone a massive renewal and conservation effort, insuring the original attractions to the quaint coastal community will remain for years to come, as the popularity of vacationing Rocky Point continues to grow.
For more information, please contact:
Sea Side Reservations
7655 E Redfield Rd. Suite 3, Scottsdale, AZ 85260
TEL (602) 404-2982 FAX (602) 404-2986
info(at)seasidemexico(dot)com