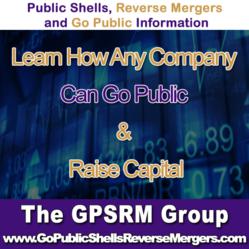 New York, NY (PRWEB) August 30, 2012
Reverse Merger and Public shell news site, the GPSRM group is excited at announcing the launch of its very own Facebook profile, which can be found by clicking this link.
In the past few months all eyes have been focused on Facebooks much heavily publicized venture into the public markets. Facebooks decision to go public was met with much enthusiasm along with an equal amount of skepticism among many industry analysts. Despite the difference of opinions, Facebook still remains a prominent power house within the social networking community. Since debuting in 2004, Facebooks popularity has exponentially increased throughout the years. As of June 2012, Facebook has accumulated a user base of well over 900 million users.
The GPSRM Group is a prominent news and information site that caters to furnishing all the necessary information pertaining to the going public process for any business that wishes to become publicly listed within the USA capital markets - NASDAQ, AMEX, NYSE, The Over the Counter Bulletin Board, and Pink Sheets -. The site also contains an extensive amount of pertinent information with regards to Public Shells as well the Reverse Merger process.
As a result of Facebook's decision to become publicly traded, many other companies have quickly followed in Facebooks footsteps as well. Not only big businesses, but many private and start-up companies are going public as well. GPSRM spokesman Michael Tillman states that you can go public regardless of the size of your business. "Any company can go public in the USA regardless of revenue stream, whether private or start up."
Going public offers many additional opportunities and benefits for business of all shapes and sizes. The stock trading markets are available to all kinds of businesses. Investors may also benefit from publicly trading companies as public companies usually have some exit strategy. The usual exit strategies for large public companies allows investors to freely opt out of equity participation by simply trading or selling their stock. Other possible benefits include higher company valuation, liquidity, corporate credibility, and much more.
For additional information, questions, or comments please feel free to visit the GPRSM Group website which can be found by clicking here.