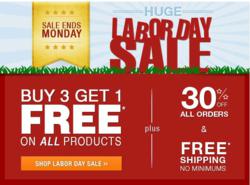 Gilbert, AZ (PRWEB) August 31, 2012
American workers are the backbone of this country and deserve recognition. Every year, Americans celebrate Labor Day in different ways. For some, the work and school holiday is spent with the family and by the grill. For others, it means the end of the summer fashion season, and time to put away white shoes and clothes. Many students are returning to schools and universities after the summer break. To Select Blinds, Labor Day means honoring the achievements of the American workforce with competitive prices, quality products, and satisfaction guarantees. All of the things that make Select Blinds the most reviewed and highest rated blinds in America.
Labor Day is celebrated on the first Monday in September and was originally created to recognize trade and labor unions. Unions assured workers of certain rights, which included reasonable working hours, a safe work environment, and fair pay. Adopted as a national holiday in 1894, Labor Day became a yearly tribute to American workers and the achievements that have made our country grow and prosper. Founded on the principles of offering the best quality of products for any budget, Select Blinds believes in the rights of consumers to be satisfied with their purchases. Window coverings like blinds and shades are often a one-time purchase. Spending hard-earned money is easier knowing the products bought are high quality and will last. That is why the Select Blinds offers a 100% satisfaction guarantee, and lifetime warranty on their products.
Select Blinds believes that consumers have a right to competitively priced products. Window coverings can be a daunting and expensive process, especially for new homeowners. With summer nearing the end, many families have moved and are looking for an economical and safe way to cover all the windows in their new home. The Labor Day sale at Select Blinds offsets the cost of a big project like this with "Buy 3 get 1 free" on all blinds, window shades, and shutters throughout the site. Combined with free shipping, and an additional 30% off all orders, this is the perfect time of year to cover bare windows, or update old window coverings.
Select Blinds also believes that consumers have a right to safe products. Families with small children must be especially careful when choosing the right window coverings to avoid potential strangulation and other blind cord related accidents. Select Blinds offers a large assortment of window blinds and shade products with cordless safety features. In addition to cordless options, the company offers lift cord cleats to tie down loose cords, and continuous cord loop safety lift systems.
Headquartered in Gilbert, AZ, Select Shops owns the leading online destinations for ready-to-install and custom-made home decor, including SelectBlinds.com, SelectRugs.com and Bedding.com. Select Blinds offers competitive pricing, security and convenience, online shopping, live assistance, customer satisfaction guarantees, and strong warranty programs on all of its products. For more information, please visit http://www.selectblinds.com.