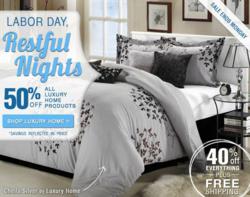 Gilbert, AZ (PRWEB) August 31, 2012
Labor Day is typically spent around the barbeque with family and friends, but it can also be a really great time to get home decorating projects finished around the house. Whether shopping for a kid's new bedroom, changing out an old comforter, or just updating the style of a bedroom, Bedding.com can help with a large supply of bedding products currently on sale for 40% off.
Labor Day became a national holiday in 1894, and was created to recognize labor and trade unions for their effort to ensure the rights of laborers to have fair pay, safe working environments, and reasonable working hours. Bedding.com believes in the rights of consumers to receive quality products and competitive prices when making bedding purchases. The bedding company believes consumers have a right to high quality, competitive prices, and satisfaction guarantees when spending their hard-earned money over this holiday weekend. Because of this, a risk free, 100% satisfaction guarantee for all purchases is offered to all consumers that buy from Bedding.com.
This way, Bedding.com ensures that all customers can be confident and happy with their online bedding purchases.
Bedding.com also strongly believes that customers have a right to the best prices anywhere and states that they will never be undersold. The company proudly offers a price match guarantee for all bedding products sold on the site. If consumers find a lower price on a product offered on the website, Bedding.com will match it with no questions asked.
Bedding.com's goal this holiday weekend is to help consumers rest easy by saving some cash on bedding sets and accessories. For their Labor Day sale they are offering luxury bedding sets at deep discounts, 40% off of everything in the store, and free shipping with no minimums. This makes Bedding.com a one-stop shop for kids bedding, NFL bedding, and some of the most stylish comforter sets you can find online.
Headquartered in Gilbert, AZ, Select Shops owns the leading online destinations for home fashions and decor, including SelectBlinds.com, SelectRugs.com and Bedding.com. All of Select Shops Web sites offer competitive pricing, security and convenience, online shopping, live assistance, customer satisfaction guarantees, and strong warranty programs on all products. For more information and details on the Bedding.com Labor Day bedding sale, visit http://www.bedding.com.