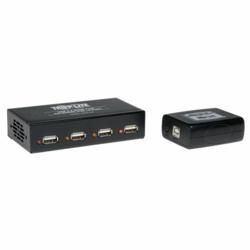 users can now overcome the 16-foot signal distance limitation while still maintaining full 480mbps transmission speed the entire 330 feet
Chicago, IL (PRWEB) August 30, 2012
Tripp Lite, a world-leading manufacturer of power protection and connectivity solutions, has introduced a solution for extending USB 2.0 signal distance by up to 330 feet for four devices. The B203-104 USB 2.0 over Cat5 Extender Kit features a local transmitter unit and 4-port remote hub that allows placement of four USB devices up to 330 feet away from a computer by means of Cat5 cabling. This configuration supports High-Speed data transfer rates of up to 480Mbps and overcomes the 16-foot USB signal distance limitation.
Key Features and Benefits:

Allows users to locate four USB 2.0 devices up to 330 ft. (100 Meters) from a Computer over Cat5 cable
Supports High-Speed data transfer rates up to 480Mbps
Compatible with Windows® XP™ and higher
Compliant with the Federal Trade Agreements Act (TAA) for GSA Schedule purchases
"With Tripp Lite's new USB over Cat5 extender hub, users can now overcome the 16-foot signal distance limitation while still maintaining full 480mbps transmission speed the entire 330 feet," said David Posner, Tripp Lite Product Manager. "And by enabling up to four USB 2.0 devices to be placed away from the computer, it offers greater flexibility for the office, classroom, any size business or industrial applications."
For more information on Tripp Lite's new B203-104, go to: High-Speed USB 2.0 Over Cat5 Extender Kit with 4-port Hub.
To download images, go to: Tripp Lite B203-104 Product Images.
About Tripp Lite
Outstanding product reliability and exceptional service have been Tripp Lite trademarks for 90 years. Tripp Lite's innovations include the world's first UPS system designed specifically for personal computers, and the world's most trusted premium surge suppressor--the Isobar®-with more than 18 million in use. Tripp Lite maintains the highest level of ready-to-ship inventory in the industry with more than 2,500 different products, including UPS systems, rack systems and cooling solutions, PDUs, PowerAlert software for enterprise-level system management and control, surge suppressors, KVM switches, cables and connectivity products, inverters, power strips and notebook accessories. Headquartered in Chicago, Illinois, Tripp Lite maintains a global presence with fully staffed offices worldwide. Additional information, including a list of Tripp Lite's sales offices and authorized reseller partners, can be found by visiting Tripp Lite's website: http://www.tripplite.com.