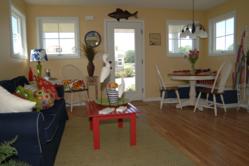 "The process is seamless, the marketing fabulous, the usage incredible and the staff is fantastic."
Ottawa, IL (PRWEB) August 31, 2012
Heritage Harbor Ottawa knows that vacationers can't be at a vacation property all through the year so they have partnered with Homeway Homes to provide a new product for those homeowners who want to get the most out of their waterfront vacation cottage ownership — a unit with generous rental options.
Sometimes, it can be common for vacation home buyers to overestimate the amount of time they'll spend on vacation, according to Christine Karpinski, director of the owner community for HomeAway.com, a vacation-rental website. While many do find the right balance of vacation and home time, some look for extra ways to get the most bang for their buck in a property. USAToday reports that those homeowners are turning to the income from renters to help offset their carry costs.
With its new Cottages at Heron's Landing development, Heritage Harbor Ottawa and Homeway Homes are making it easy for homeowners to jump on this bandwagon. Not only do homeowners feel like they are getting great use out of their property, but they are complementing their use with vacationers who are finding a charming waterfront vacation cottage on the scenic banks of the Illinois River Waterway.
Owners who purchase are under no obligation to offer their unit as a rental, but if they choose to do so, they can either go it alone or they can employ the assistance of Heritage Harbor Ottawa Marina, LLC which handles all of the hassle.
Karpinski, who is also the author of "How to Rent Vacation Properties by Owner" says it's important to do research to reach a positive renting outcome for both parties. According to Jeff and Peggy Lovelady, current Heritage Harbor Ottawa cottage owners who have elected to use the on-site rental management program, "the process is seamless, the marketing fabulous, the usage incredible and the staff is fantastic."
That's the beauty of owning a Cottage at Heron's Landing and working with the on-site rental management company — homeowners only have to determine when they plan to use the space and when they want it listed as available to renters; the staff handles the rest. It offers the best of both worlds.
"If they do their homework, both renters and owners can have a good experience," Karpinski tells The New York Times. "In the end, what ends up happening is the owner really enjoys sharing the experience of their home with someone else."
The Cottages at Heron's Landing hold a "resort within the resort" feel, offering homeowners and renters the opportunity to enjoy the world class lifestyle and amenities available at Illinois' premier marina resort community for a fraction of the price of owning a large second home in other destinations such as southwest Michigan, northwest Indiana or Wisconsin.
There are currently two, spec vacation cottages for sale that are available for tours. They start as low as $182,900.
Sitting on the gateway to Starved Rock Country and within the historic city of Ottawa, Illinois, Heritage Harbor is already established as premier marina and vacation home destination.
For more information, or to see the Cottages at Heron's Landing available for purchase, contact Tammy or Janet at 815-433-5000.