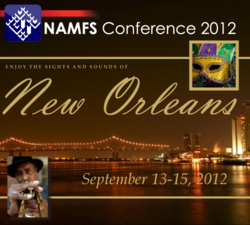 Stow, OH (PRWEB) August 31, 2012
Each year the Association works with its members and contacts within the government agencies to shed light on current trends and upcoming changes that impact our members. NAMFS is once again pleased to share two general sessions during the NAMFS Conference & Expo 2012 for all attendees:
General Session I - Legislative Updates will cover two specific topics: CFPB National Servicing Standards & Louisiana Senate Bill 752. These timely and relevant issues will be presented by an expert from outside the Association. Marsha Williams from Middleburg Riddle & Gianna will discuss the recently proposed National Servicing Standards. The proposed standards are currently in a 60 day comment period. She will also address LA Senate Bill 752 which was passed earlier this year. This legislation grants authority to servicers and their third-party agents to enter the premise of an abandoned property to perform maintenance to protect and preserve the property until sold.
General Session II - Regulatory Updates will highlight challenges, opportunities and servicing updates from HUD, FNMA and FHLMC. The HUD portion of the session will discuss MBA Working Group updates, mortgagee letter clarifications and specific concerns relating to items such as pool covers, reconveyances and demands, broom sweeping, mobile homes and damages. The Fannie Mae (FNMA) section of the session will cover updates to FNMA servicing guidelines as well as opportunities to enhance services related to emergent issues and mold. The Freddie Mac (FHLMC) segment of the session will cover updates to FHLMC servicing guidelines as well as challenges related to damage reporting and limited guidelines. Finally, in support of our business resource and certification sessions the panelists will also discuss items of importance for field professionals including professionalism, communication, and handling servicing audits.
NAMFS is also pleased that Thomas J. Inserra, CEO of member company Sentinel FIeld Services, will be providing the Keynote Address - Market Outlook: Preparing Your Organization for Considerable Change & Managing the Coming Transition. Mr. Inserra will be sharing his thoughts about the record-breaking volumes of foreclosures, which history teaches us is not sustainable, in the hopes that we prepare for the changes that are poised to take place in our industry. Emphasis will be placed on strategic analysis and planning to make a successful transition during this time of change. Mr. Inserra has 27 years' experience leading vendor management field service businesses as a Chief Executive or as a key executive at two national banks, two global insurers and two federal agencies.
Additional information regarding the NAMFS Conference & Expo 2012 is available on NAMFS.org.
About NAMFS
The National Association of Mortgage Field Services, Inc. (NAMFS) is the premier trade association for the mortgage field service industry. We are dedicated to working with all entities of the industry from the Government Agencies and investors that set policy to the contractors and inspectors that perform the work.