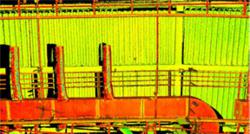 "KS Associates works with architects and owners, providing site planning, design, LEED consulting and surveying services for diverse projects." - Mark B. Skellenger, P.E., Vice President of KS Associates
Elyria, Ohio (PRWEB) August 31, 2012
Civil engineering and surveying firm KS Associates, Inc., of Elyria, Ohio, will be among this year's exhibitors at the annual AIA Ohio Convention on Friday, September 14, 2012. The convention takes place at the Wyndham Cleveland Playhouse Square in Cleveland, Ohio. The event is expected to bring together more than 400 architects and allied professionals from around the state.
Attendees are encouraged to stop by KS Associates' booth (#B41) to discuss the latest civil engineering and surveying trends and issues, and how they relate to the many aspects of architectural design. At the booth, KS Associates will showcase its newest service line – 3D Laser Scanning – and will demonstrate how laser scanning can add value to design and construction processes.
KS Associates has worked with architects and owners, providing site planning, design, LEED consulting and surveying services for several high-profile Northeast Ohio projects, including: Tinkham Veale University Center at Case Western Reserve University; Culinary and Convergent Digital Arts Facility, SMART Commercialization Center, and Laboratory Sciences Building at Lorain County Community College; Cleveland Clinic's Marymount Hospital Surgery Center Expansion; a 450-space parking lot for the new Cuyahoga County Juvenile Justice Center; Cuyahoga County Correction Center Jail Renovations; and Garden Valley Estates, a public housing project for Cuyahoga Metropolitan Housing Authority (CMHA).
About KS Associates:
Celebrating its 25th Anniversary, KS Associates is a civil engineering and land surveying firm founded in 1987. The firm provides land survey and mapping services; 3D laser scanning services; design, bidding and construction administration of public infrastructure and transportation projects; and site development engineering services for residential, commercial and institutional projects. For more information visit: http://www.ksassociates.com.