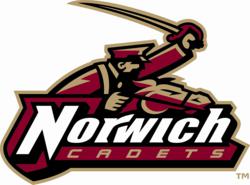 Boston, MA (PRWEB) August 31, 2012
The Norwich University volleyball team has been selected to finish fifth in the Great Northeast Athletic Conference (GNAC), as selected by the league's head coaches in the preseason poll released Wednesday evening.
First-year head coach Ashlynn Nuckols welcomes five returners from last year's team that boasted a 16-10 overall record and an 8-6 record in GNAC play. The Cadets advanced to the GNAC Quarterfinals a season ago, ultimately falling to Simmons in five sets.
The Cadets received 107 points, while league-favorite Rivier University received 166 points and 10 first-place votes. Rivier enters theseason after earning their fourth conference championship title in 2011.
Also receiving first-place votes in the preseason poll were Emerson, who earned 144 points and two first-place votes, and Emmanuel, who finished a close third in the poll with 143 points and one first-place vote.
The fourth-place slot went to Simmons, who narrowly edged out the Cadets with 109 points.
Norwich kicks off the 2012 season this Saturday, Sept. 1 when it travels to Southern Vermont for a tri-match also featuring MCLA. The Cadets will take the court at 3:00 and 5:00 p.m.
2012 Great Northeast Athletic Conference Women's Volleyball Pre-Season Coaches' Poll
Rank Institution First Place Total Points
1 Rivier University 10 166
2 Emerson College 2 144
3 Emmanuel College 1 143
4 Simmons College 127
5 Norwich University 109
6 Saint Joseph's College (ME) 107
7 Johnson & Wales University 95
8 Lasell College 88
9 Mount Ida College 66
10 Suffolk University 51
11 University of Saint Joseph (CT) 42
12 Albertus College 29
13 Anna Maria College 16
COMPLETE GNAC RELEASE
Norwich University is a diversified academic institution that educates traditional-age students and adults in a Corps of Cadets and as civilians. Norwich offers a broad selection of traditional and distance-learning programs culminating in Baccalaureate and Graduate Degrees. Founded in 1819 by Captain Alden Partridge of the U.S. Army, Norwich University is the oldest private military college in the United States of America and the birthplace of our nation's Reserve Officers' Training Corps (ROTC). http://www.norwich.edu