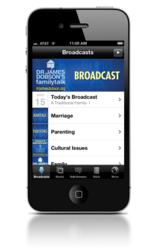 (PRWEB) August 30, 2012
Family Talk's NEW Mobile Application
Dr. James Dobson's Family Talk is pleased to announce the release of our brand new mobile app!
Anywhere customers roam they can listen to the Family Talk daily broadcast and have access to Dr. Dobson's past programs. It's America's Family Counselor on-demand 24/7, when and where you need him! Use the App to view video commentaries, get answers to compelling questions with our Solid Answers tool, connect with Dr. Dobson via social media, and even read a new digital Bible. It's a practical and inspirational family resource - absolutely free - and available for iPhone, iPad and Android devices.
Visit your App Marketplace to download today!
The Family Talk app features:
BROADCASTS : Listen to today's broadcast and find past programs listed by topic.
MEDIA : Watch videos and presentations on marriage, parenting, faith and family.
SOLID ANSWERS : Dr. Dobson answers your questions on marriage, parenting, family, education, relationships, cultural issues, and more.
BIBLE: Look up scripture or read straight through the Word of God with an online Bible.
CONNECT: Visit Family Talk's website, join the conversations on Facebook, find books and digital media in our resource center, and more.