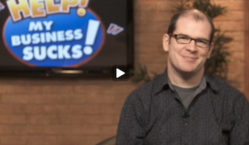 I am obviously recommending [my product] and plugging it without selling it overtly. It's a method that works very well in that environment.
(PRWEB) August 31, 2012
When James Reynolds, successful internet marketer and CEO of Incredible Incorporated, interviewed Andrew Lock of Help My Business, the entrepreneur was able to give away just how he monetises his successful web TV show. His show 'Help! My Business Sucks!' has become an internet phenomenon, attracting around 100,000 viewers per episode and is number one most popular marketing web TV show on the Apple iTunes list. Through his show, he is subtly able to promote his marketing and business products and services. While one aim of the show is to provide interesting and quality content and advice for viewers, he is also able to place mentions of his products throughout the show. He states, "I don't pitch those types of products and services but I do incorporate them. An example of that is when someone asks a viewer question that I answer on the show, as a reward for doing so I give them a gift of one of my products and in so doing I am obviously recommending it and plugging it without selling it overtly. It's a method that works very well in that environment."
However, Andrew Lock revealed to James Reynolds that there are more ways of profiting from a web TV show, ways of profiting directly and immediately. He recommends the use of paid sponsorship for a web TV show and begins his own show with a mention of his sponsor and a recommendation of their product. He says, "The interesting thing about having sponsors is that first of all that the audience don't mind it at all; they don't view it as an ad even though really it is. Secondly as you the presenter are making the recommendation the audience tend to trust it more than if it were a traditional ad. It's really a win win all round."
Apart from immediate profit, there are other reasons business owners should consider a web TV show. Internet marketing expert James Reynolds added, "The fact you're there presenting a show each week with your face on camera means you are building authority that people over time are going to like and trust while valuing what you deliver."
In the course of the full podcast Andrew Lock gives away many more secrets behind a successful web TV show, including where to start, equipment needed, how to attract sponsors, where to host your videos and how to keep the audience hooked . It can be heard at http://www.incredibleinternetmarketing.com/podcast/how-to-create-a-web-tv-show-with-andrew-lock-from-help-my-business/
About James Reynolds
James Reynolds is the CEO of Incredible Incorporated (http://www.incredibleincorporated.com), a group of companies which include SEO Sherpa, Web Reactivators, Incredible Fan Pages, Breakthrough HQ and Unlimited Power Online. He is an expert in helping entrepreneurs drive sales and increase the overall responsiveness and profitability of their online marketing. James has earned great respect in the field and is an experienced internet marketing speaker appearing at events worldwide and often in the media in Dubai, where he resides.