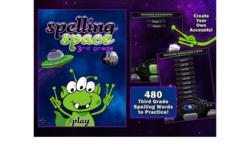 Portage, MI (PRWEB) August 31, 2012
Now available for tablets, Spelling Space – 3rd Grade, an educational app from Learning Gems, provides a fun way for third graders to practice high frequency spelling words. This app can be downloaded in the Apple and Amazon Kindle app stores as well as from Google Play.
Spelling Space – 3rd Grade offers an alternative approach to spelling practice and gives parents a break from mundanely reading words aloud for their children to spell. This outer space-themed app, hosted by a green alien, possesses 30 different spelling lists composed of 480 high frequency words. The lists were structured around an elementary school's existing spelling tests.
Students are able to create their own accounts on the game. Then one of the 30 lists can be assigned for the student to practice. The words on the list appear in a random order each time. They are read aloud by an actual teacher for the student to spell. Each correct answer earns the child an asteroid. On the other hand, words spelled incorrectly reveal the correct spelling so the participant can learn from their mistakes. Each time a child works his or her way through a spelling list, a grade is calculated. A report is also available that displays all the grades a student has earned. Lists can be played and replayed in their entirety, or difficult words can be focused on.
The asteroid students receive for correctly spelled words come into play at the end of each spelling list when a mini game is presented. As space ships fly across the screen, children can shoot at them with their asteroids.
This spelling app is great in classrooms, for extra practice at home or as a supplement to homeschooling. The fun graphics are vibrant and the theme is exciting. These features paired with the mini game help keep children engaged while learning.
Learning Gems is a sister company of Blue Fire Media, whose specialties are web development and design, web marketing and SEO. The Learning Gems team, made up of school teachers, programmers, graphic designers and copywriters, strives to find fun ways to educate children. Some of the company's other apps teach math, Spanish and other basic concepts including colors, shapes and U.S. coins.