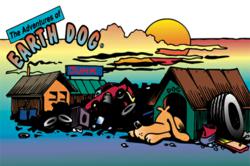 Now, the popular children's environmental super-hero is making his comeback in app and eBook format with auto-narration, to appeal to children of all ages
Bethesda, Md (PRWEB) August 31, 2012
Environmental Superhero Earth Dog Featured Selection for Hot New Tablets
Market Heats Up for New, Smaller E-Readers: Google's Nexus 7, Amazon's Kindle Fire 2, Barnes & Noble's Nook, Toshiba Satellite U925t
A series of new, smaller tablets hitting the market is fueling e-reader sales, giving consumers more ways to access recent eBook releases including The Earth Dog Story.
Consumers of children's books have more cutting-edge choices with Google's recent unveiling of its Asus-made Nexus 7 tablet. Reports indicate favorable reviews with strong sales at the same time as anticipation is building for Amazon's expected Sept. 6 unveiling of its new Kindle Fire 2 tablet.
And in a bid to challenge Kindle Fire, Barnes & Noble recently announced that it plans to launch its line of e-readers in the United Kingdom in October, including a new U.K. online storefront for the Nook digital bookstore. Barnes & Noble also cut prices on its 7-inch Nook Color and Nook tablet products to compete with Kindle Fire and Nexus 7.
At the same time, reports show that hybrid devices are rapidly gaining popularity in the technology market, with consumers seeking ultra-lightweight devices that double as tablets. Toshiba on Thursday unveiled its sought-after Satellite U925t tablet-ultrabook hydrid. Satellite converts into a tablet when a user slides the display back and up, running as an ultrabook on Windows 8 and in tablet mode to access Windows apps.
The Earth Dog Story eBook is featured on Apple iTunes and Amazon Kindle. Young readers are turning to eBooks in record numbers, and eBook readership now surpasses that of traditional books, according to reports.
Environmental superhero Earth Dog educates young people around the world about environmental issues affecting their planet. He teaches problem-solving skills through understanding and cooperation to students for whom the environment is a top concern.
The Earth Dog Story was first published as a storybook in 1992, then in 1996 in cooperation with the U.S. Department of Energy as a part of its Environmental Out Reach Program with Weekly Reader. Now, the popular children's environmental superhero is making his comeback in app and eBook format with auto-narration to appeal to children of all ages. Earth Dog® became available as an app in iTunes and as an eBook, titled The Earth Dog Story just in time for Earth Day 2012
For more information, readers should visit the new Earth Dog website at Earthdog.org or The Earth Dog Story at Earthdogstory.com.