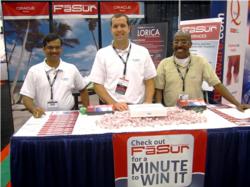 Our participation at Oracle Open World 2012 is the culmination of a busy and successful year to date.

Kahin Farah
FaSur Technologies
Herndon, Virginia (PRWEB) August 31, 2012
FaSur Technologies, an IT managed services consultancy headquartered in Herndon, Virginia, announced it will again be an exhibitor at the Oracle Open World conference next month.
This is the second consecutive year FaSur Technologies will participate in the event as an exhibitor in the West Wing of the Moscone Center, San Francisco, California.
"Our participation at Oracle Open World 2012 is the culmination of a busy and successful year to date," said Kahin Farah, Managing Director of FaSur Technologies. "We are proud Oracle Certified Partners and look forward to providing our clients with continued world-class service."
Oracle Open World, the enterprise software conference held each year at the Moscone Center in downtown San Francisco, is the largest conference held each year in the city of San Francisco and the largest information technology event in the world.
ABOUT FASUR TECHNOLOGIES
FaSur Technologies is an IT managed services consultancy devoted to helping organizations reach their IT goals by offering quality services at competitive rates. We deliver proven technology solutions in four main categories: enterprise applications, database management, QA test automation, and performance testing. Over the years, FaSur has worked with prestigious clients across higher education, software, government, healthcare, and social media.The IT firm is headquartered in Herndon, Virginia with a satellite office in Hyderabad, India.
ABOUT ORACLE OPEN WORLD
Oracle Open World is the world's largest information technology event dedicated to helping enterprises understand how to harness the power of information. Over 45,000 people attended OOW in 2011, the largest conference of the year in San Francisco. Follow Oracle Open World on Twitter (@OracleOpenWorld).
ABOUT ORACLE
Oracle Corporation develops, manufactures, markets, hosts, and supports database and middleware software, applications software, and hardware systems. It licenses database and middleware software, including database and database management, application server and cloud application, service-oriented architecture and business process management, business intelligence, identity and access management, data integration, Web experience management, portals, and content management and social network software, as well as development tools and Java, a software development platform; and applications software comprising enterprise resource planning, customer relationship management, financials, governance, risk and compliance, procurement, supply chain management, enterprise portfolio project and enterprise performance management, business intelligence analytic applications, Web commerce, and industry-specific applications software. The company also provides customers with rights to unspecified software product upgrades and maintenance releases; Internet access to technical content; and Internet and telephone access to technical support personnel. In addition, it offers computer server, storage and networking product, and hardware-related software, such as Oracle Solaris Operating System; Oracle engineered systems; storage products, which comprise tape, disk, and networking solutions for open systems and mainframe server environments; and hardware systems support solutions, including software updates for the software components, as well as product repair, maintenance, and technical support services. Further, the company provides consulting solutions in business and IT strategy alignment, enterprise architecture planning and design, initial product implementation and integration, and ongoing product enhancement and upgrade services; Oracle managed cloud services; and education services. Oracle Corporation was founded in 1977 and is headquartered in Redwood City, California.