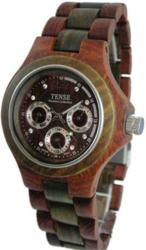 Belleair Bluffs, FL (PRWEB) August 31, 2012
BillyTheTree is adding 25 new styles to the Tense Wooden Watches selection featuring the most unique time-pieces made from the world's best natural materials from Africa, India and many other exotic places. Using grains and shades to create striking color combinations, Tense Wooden Watches symbolize contemporary elegance for a harmonious effect thanks to the dedication and expertise of the designers.
Founded in 1971, Tense products are all designed and manufactured in British Columbia, Canada, where the natural beauty is captured and emanated in each Tense Wooden Watch model. Using one of the world's top watch movements, Japan's Miyota 2035, the unique blending of natural materials with technology create some of the most interesting timepieces for collectors who are bored with traditional leather.
Ranging from light sandy hues to deep dark black tones, each timepiece is individually crafted making no two watches exactly the same. The grain, shade and tone of the wood vary from watch to watch. The designs range from single-function models to more complicated timepieces with date windows, day indicators, dual-dial chronographs and 24-hour dials. All Tense Wooden Watches are hypo-allergenic and sizeable to fit all. Both digital and standard dials are available.
For more information, visit http://www.billythetree.com/tense-wooden-watches.aspx
About BillyTheTree.com
Founded in 2004 by Robin Weber when he was still a senior in high school, BillyTheTree.com offers a large variety of affordable, yet high quality jewelry, watches and sunglasses. The company offers free worldwide shipping on these product lines, which include almost 12,000 items, consisting of magnetic jewelry, sterling silver jewelry, jade jewelry, high performance sport sunglasses, and more.