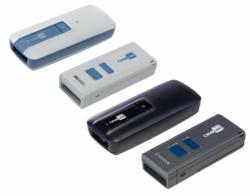 Do you need to scan 1D or 2D barcode data into your Smartphone or Tablet PC faster than other mini scanner? 1600 provides excellent perfoermance on barcode scanning and working hours.
Plano, TX (PRWEB) August 31, 2012
CipherLab, a leading innovator in Automatic Identification and Data Capture (AIDC) has completed the 1600 series of pocket-sized scanners. 1600 Series equipped linear imager, laser and 2D imager for all purpose use in various verticals. When paired with smart phone or tablet PC, it provides remote workers with anywhere mobility and boosts the efficiency of data collection applications used in markets where logistics systems are most crucial, such as retail, healthcare, public utilities and field service environments.
1660/1661 is one of the smallest and lightest wireless barcode readers on the market and has the most advance decoding performance, can read 3mil resolution barcode with depth of field from 1.4 to 15 inches. It provide 2 models for power source, 1660 using two AAA batteries and 1661 using rechargeable Li-ion battery. When you scan a barcode every 5 seconds, the working hours of 1660 is 30 hours and 1661 is 40 hours.
1662 laser scanner to the 1600 series of pocket-sized scanners. Easily to be carried around, this scanner is also equipped with laser reader to better assist your field staffs when capturing barcodes under the bright sunlight. Additionally, the long lasting battery life of 1662 laser scanner makes it a must-have tool for your mobile staffs.
1664 2D scanner has been enhanced with more features that are surely to benefit businesses. In addition to the 2D imager, the increased on-board 4MB memory can store over 240,000 scans and data. The rechargeable Li-ion battery provides long working hours for all-day work, improving productivity. The scanner also supports a Bluetooth® working range of 20 m (66 ft.), which facilitates operations that require instant data synchronization with the back-end system.
The 1600H series antimicrobial protection scanner is designed to perfectly supplement the healthcare staffs. Alongside of the special antimicrobial technology, the 1600H is equipped with same 1D and 2D barcode scanning capability as 1600 series. We understand that there is a growing trend of 2D barcodes in the pharmaceutical and healthcare applications, 1664H antimicrobial pocket-sized scanner has enhanced features of 2D imager that will surely help satisfy the demands and increase staff's productivity.
Housed in a pocket-size form factor, the 1600 series also comes with functional utilities and accessories, enabling workers on-the-go to work efficiently and effectively. In addition to CipherLab ScanMaster software that provides easy and fast custom configuration, the 1600 series Bluetooth® scanners are supported by CipherConnect and the 3610 transponder to integrate with smart devices and simplify the pairing process.
For more details and specifications regarding CipherLab 1600 series scanner or other CipherLab products, send an email to NASales@cipherlab.com or contact our office at 888-300-9779 by phone.
About CipherLab
CipherLab is a global leader in the design, manufacture, and marketing of Automatic Identification and Data Capture/Collection products and systems. The company's mobile computers and scanners are integrated into the networks of some of the world's best known logistics, retail, distribution, government installations and healthcare companies, helping them run more efficiently and effectively onsite and on the road. Operating worldwide, CipherLab is headquartered in Taipei, Taiwan with offices in China, Germany and the USA, and is publicly traded on the Taiwan stock exchange (Taiwan OTC: 6160). For more information, please visit http://www.cipherlab.com.