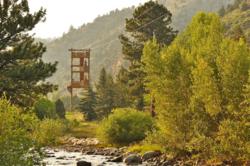 There's something about adventuring at night, when your vision is diminished and your hearing and sense of motion take over that makes it that much more thrilling
Idaho Springs, CO (PRWEB) August 31, 2012
Are you afraid of the dark? Most people would say they're not, until they're standing on a 65-foot-high wooden platform, contemplating a leap onto a zip-line that disappears into the clear night sky beyond.
Colorado Adventure Center knows how to up the fun factor when it comes to outdoor recreation, and they've done it again with the addition of nighttime zip-lining in Idaho Springs on their five-tower course.
For many who have already experienced the thrill of leaping into the void of fresh air and flying over treetops on a high-wire course, doing it at night is the next level of challenge.
"There's something about adventuring at night, when your vision is diminished and your hearing and sense of motion take over that makes it that much more thrilling," said John Cantamessa, co-owner of Colorado Adventure Center and Vice President of Activity Operations for the company.
"When I zip during the day I check my safety equipment once, but in the dark I find myself checking three and four times," Cantamessa continued. "There's just a bit of uncertainty a night; you can hear the pitch of the cables zinging around you and feel the tower sway with the breeze. It's a real thrill."
Colorado Adventure Center opened its Idaho Springs zip-line course in May. It's one of the state's highest and longest courses that crosses rushing Clear Creek three times.
Nighttime trips on the same course — 5 towers in all with more than 3,000 feet of zipping — started this month. Along with standard safety equipment, participants wear headlamps at night with both red and white lights to help them navigate the course. Subtle ground lighting is also installed to facilitate movement, but there are no bright lights to ruin the mood.
The company is the first in Colorado to offer night zipping, both sunset trips as well as those completely after dark.
"Some outfitters around the country have been offering night zipping, and we think it's a great fit for our product," Cantamessa said. "It's a tough trip that not everyone can do, depending on the layout of the zipline. Because we have tower zips, we can light them and our walkways to make it easier to move around in the dark."
Course guides receive advanced training specifically in nighttime ziplining operations.
Offered Thursday through Saturday nights, the zip-line course is a great choice for a date or a group of friends or coworkers to unwind after work. It's also completely appropriate for children who meet minimum height and weight restrictions.
Idaho Springs is only 35 minutes from downtown Denver on Interstate 70.
Colorado Adventure Center's wooden zip-line towers were built by North Carolina-based Challenge Design Innovations on 10 river- and highway-front acres just west of town. To zip from tower to tower, participants attach their harness to a pulley that is mounted on steel cables, using the force of gravity to move. But the technical description does not describe the fun part — the absolute thrill of soaring through the treetops and screaming with delight!
With offices located right inside the historic Argo Gold Mine and Mill in Idaho Springs, Colorado Adventure Center has shared thrilling outdoor adventures with guests for years. Based in Glenwood Springs, the company offers Colorado whitewater rafting trips on four Colorado rivers, plus two zip-lining courses and biking adventures throughout the central part of the state.
"We are thrilled to be offering something new and exciting in Idaho Springs," Cantamessa said. "With this location being so close to Denver and Summit County, it's also an excellent, convenient way for Colorado locals to try this fun sport at night."
About Colorado Adventure Center
Colorado Adventure Center offers zip-lining in Idaho Springs under Colorado Canopy Adventures, and in Glenwood Springs under Glenwood Canyon Zipline Adventures. It is the parent company of Highside Adventure Tours, Good Times Rafting and Rock Gardens Rafting, offering whitewater rafting trips on Clear Creek and the Colorado, Arkansas, and Blue rivers in the central part of the state. The company has offices in downtown Breckenridge, Idaho Springs, Buena Vista and Glenwood Springs. Visit on the web at http://www.ZippingColorado.com and http://www.RaftingColorado.com.