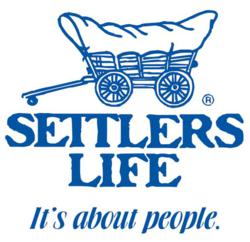 The maximum benefit available on Settlers Life's Bronze plan increases from $10,000 to $15,000.
Bristol, VA (PRWEB) August 31, 2012
Settlers Life Insurance Company announces the enhancement of its final expense life insurance portfolio effective September 1, 2012. The maximum benefit available on Settlers Life's Bronze plan increases from $10,000 to $15,000. The Bronze plan is a modified benefit whole life policy available to people between the ages of 40 and 75. Settlers Life is also increasing the maximum coverage available on its Accidental Death Benefit Rider from $35,000 to $100,000, and extending coverage under that Rider from age 75 to 80. These changes will only affect newly issued policies.
All of the plans offered by Settlers Life are permanent policies with a level premium that does not increase with age. Settlers Life's Bronze plan provides a reduced benefit for death due to natural causes during the first two years and full benefits for death due to accident, as defined by the policy. After the third policy anniversary, the Bronze Plan pays full benefits for death by natural causes or by accident. Settlers Life's Accidental Death Benefit Rider can be added to any of Settlers Life's primary whole life plans to provide additional coverage if the insured's death is caused by an accident, as defined in the policy.
Settlers Life Insurance Company is a wholly owned subsidiary of National Guardian Life Insurance Company, with its primary administrative office in Bristol, Virginia. Settlers Life has more than 2,800 independent agents appointed in thirty-six states. Since 2007, Settlers Life has maintained an A. M. Best financial strength rating of "A minus" (Excellent), the fourth highest of sixteen such ratings. A.M. Best states that an "A minus" rating "is assigned to companies which have, in our opinion, an excellent ability to meet their ongoing obligations to policyholders." A.M. Best is the oldest and most widely recognized rating agency dedicated to the insurance industry.