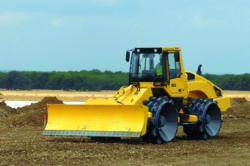 Featuring single-drum roller innovations and proven design elements from BOMAG refuse compactors, the BC462EB achieves superior compaction through a combination of sheer weight, wheel design and impact force of the teeth.
Kewanee, Illinois (PRWEB) August 31, 2012
Combining single-drum roller innovations with proven design features from its line of refuse compactors, BOMAG introduces its BC462EB soil compactor. Powered by a 255-horsepower Deutz diesel engine and four-wheel hydrostatic drive, the BC462EB provides outstanding power, gradeability and traction to push, spread and compact soil for highways, bridges, dams and other medium- to large-scale dirt projects.
Weighing 51,000 pounds, the BC462EB achieves superior compaction through a combination of sheer weight, wheel design, and the impact force of the teeth. To maintain the highest level of compaction performance, an oscillating center articulation joint ensures constant ground contact by all four wheels, while adjustable scraper bars keep wheels free of dirt.
In contrast to competitive machines, the soil compactor features a sealed frame design to protect drive train components and keep debris from entering the frame or engine compartments. Additionally, a vertically opening hood provides easy access to components to simplify maintenance tasks. Available options include a dozer blade and central lubrication system.
An ergonomic, vibration-isolated operator station on the BC462EB allows excellent visibility around the machine. Integrated armrest controls allow for additional operator comfort. An optional cab includes heat and air conditioning, noise insulation, safety glass, CD/radio and working lights.
For more information on the BC462EB or the complete BOMAG Heavy product line, including single-drum vibratory rollers, tandem vibratory rollers, steel-wheel rollers, pneumatic-tired rollers, recyclers/stabilizers and refuse compactors, contact BOMAG Americas, Inc., 2000 Kentville Road, Kewanee, IL 61443, call 309-853-3571, toll-free 800-782-6624, fax 309-852-0350, e-mail info(dot)bomag(at)bomag(dot)com or visit the BOMAG website at http://www.gobomag.com/soil-compactor-pr.